Seedy Saturday
Sunday, 18 April 2010
Have you got more seeds that you can possibly use in your garden this year? Would you like a greater variety of seeds and plants without spending any money? If so come to 'Seedy Saturday' a joint venture between Calder Food Hub and the Hope Baptist Church. Bring along any unwanted seeds or plants (or just yourself and a willingness to grow things) and swap them for new ones to fill up your garden.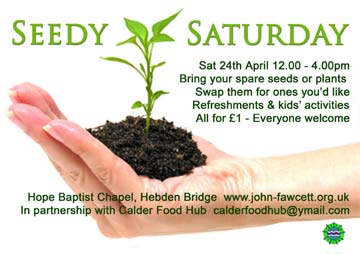 The afternoon promises to be a vibrant mix of seed and plant swapping, displays from local gardening/ food related groups, advice on seed saving, plus seed sowing and craft activities for children. Delicious homemade soup, cakes and refreshments will be available throughout the event.
Exciting plans for the Hope Baptist Church's new community garden will be unveiled on the day. The garden will serve many functions including being a place of contemplation and an accessible food growing space. All visitors will be given the opportunity to look around the garden and get involved.
Seedy Saturday is on the 24th April 12-4pm at Hope Baptist Chapel in Hebden Bridge. Admission is £1.