Funding Success for Festival
Tuesday, 20 April 2010
Hebden Bridge's artistic roots and historic routes will be celebrated when the town's Arts Festival gets underway on June 26 - thanks to a grant from Arts Council England.
£11,553 has been awarded to the Festival by Arts Council England, Yorkshire under the Grants for the Arts scheme. Other financial help for the two week-long festival includes a £5,000 partnership grant from Hebden Royd Town Council and £550 from Calderdale Small Grants.
The Arts Council England grant will go towards "Roots and Routes" — the Festival's celebration of artists who have or have had their roots in Hebden Bridge and of the ancient route the packhorse bridge created across the Pennines 500 years ago. Included in this strand of the Festival is an exhibition of photographer Martin Parr's work around Hebden Bridge in the mid-70s and the converted Routemaster Bus which will provide a unique venue for local artists and performers. The grant will also enable Artist in Residence Lucy May Schofield to celebrate the invention of the printing press by creating a handmade book as a record of the 2010 Festival.
Mairead Turner, performing arts officer for Arts Council England, Yorkshire, said: "We are delighted to support Hebden Bridge Arts Festival which features an excellent range of work for all ages across a range of artforms."
Sponsorship is coming from Sweet & Maxwell of Mytholmroyd who are giving £2,000 and Hebden Bridge company Kala Gallery who have donated £1,000 towards a dynamic opening night event on June 26.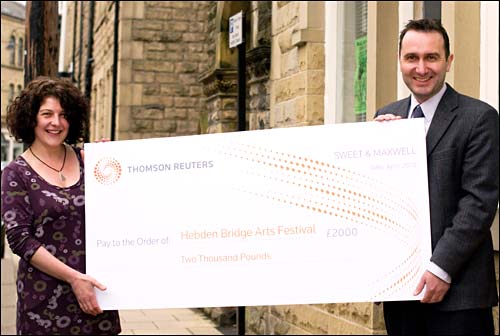 Miles Hutchinson, Content Operations Director for Sweet & Maxwell, part of Thomson Reuters, said: "This is the third successive year we have supported the Festival and we continue to be very proud of our commitment to it."
Katie Hanson of Kala Gallery said: "As a Hebden Bridge-based internet business we find that although we have custom from all over the world, we have little or no local exposure. The audience attracted by the Arts Festival's wide range of events guarantees us advertising locally and further afield without having to spend time and effort developing our own campaign. The Festival is an asset to the town, its residents and its business community and Kala Gallery is delighted to support it."
Festival Co-ordinator Rebecca Yorke said the funding received from businesses and grant-awarding bodies was essential to the success of the Arts Festival.
"The Festival could not take place without the financial assistance of the Arts Council and the grant awarded by Hebden Royd, but we are thrilled that our relationship with Sweet & Maxwell continues to flourish and we look forward to building a similar relationship with Kala Gallery. We are also very grateful to all those other local businesses which support us by taking a listing in the programme, or by working in partnership with us. The number of businesses we work with in this way continues to grow and we continually seek new ways of working to ensure the future of the Festival while supporting the local economy."
Hebden Bridge Arts Festival runs from June 26 to July 11. The programme will be launched on May 7 and tickets will be available from May 10.
Keep in touch at www.hbaf.co.uk, or become a fan of Hebden Bridge Arts Festival on Facebook.