Hop, Skip and a Jump into the Handmade Parade
Thursday, 29 April 2010
If you fancy getting creative with feathers, flying machines or spaceships, the Hebden Bridge Handmade Parade will have it all.
The theme of this year's spectacular street parade and open workshops will be Hop, Skip and a Jump — a celebration of journeys real and imaginary.
A host of suggestions were put forward at a community consultation meeting in Hebden Bridge last month. But it was journeys that seemed to most capture the imagination.
Expect to see everything from migrating animals, to magnificent people in their flying machines, from sheep on skateboards to alien spaceships.
The community-generated parade, led by local artists, celebrates the creativity, variety and uniqueness of Hebden Bridge. The event, now into its third year, takes place at 2pm on Saturday June 26 at the start of the Hebden Bridge Arts Festival.
Workshops will be held from June 5–24 in Hebden Bridge and will be open to absolutely anyone who wants to get involved in creating parade art, giant puppets or costumes. There will also be special classes for older children and adults who want to get stuck into a new skill — from stilt-walking to making willow sculptures.
Todmorden-based Andrew Kim, Artistic Director of the Handmade Parade and a renowned puppeteer and puppet- maker who has worked on parades and pageants across the world, said: "There's nothing like a good parade to showcase the vibrant and creative energy bouncing up and down the Calder Valley.
"This year's theme of journeys — real and imaginary, offers opportunities to make fun and poetic representations of all the creatures and people who have travelled into our valley who together create a fertile soil for innovative ideas and work which then journeys out into the world."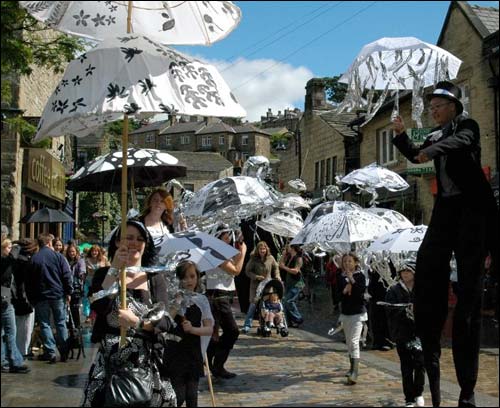 The previous two parades, with the themes of a Deluge of Delights and the Glorious Garden Party, were hugely successful. Hundreds of people took part and thousands lined the parade route to cheer on the procession of giant puppets and clever animatronics, and, of course, to marvel at their friends and neighbours wearing stunning costumes.
A not-for-profit company has been set up to produce this year's parade and the new organisers are hoping it will have a longer route around the town and will finish with a finale pageant in Calder Holmes Park.
For more details about the parade go to Hebden Bridge Parade