Ruby Wood at Wainsgate
Thursday, 6 May 2010
Loopology is Jazz, R'n B, Nu Soul and Hiphop-inspired singer Ruby Wood's brand new solo project where she finds the freedom to let all her sweet melodies, vocal experimentation and unusual ideas out into the world.
Armed with only a microphone, an RC-50 Loopstation and a few effects pedals, Ruby's Loopology is about creating fascinating and beautiful vocal soundscapes in a mix of well known songs and her own compositions. Part of the concert will also feature Ruby singing with her partner — guitarist Noah Burton in their duo Acoustic Soul. See Ruby and Noah's webpage for more.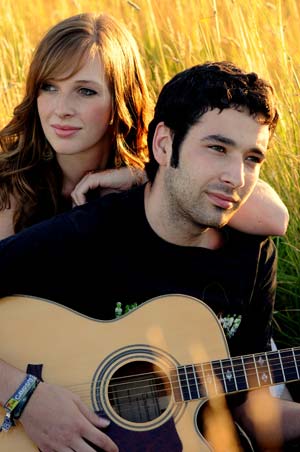 "Ruby and Noah create beautifully relaxed, honest and positive music creating the perfect ambience for the listeners' aural pleasure."
Ruby and Noah have recently toured in 'Variety Lives', performing alongside artists such as Arthur Smith from Grumpy Old Men, Hattie Heyridge (Holly from Red Dwarf) and Barbara Nice (Peter Kay's Phoenix Nights).
Ruby is influenced by artists such as Jill Scott, Erykah Badu, Sarah Vaughan, Ella Fitzgerald and Bobby McFerrin. In 2008 she was awarded a scholarship from Yamaha Music, PPL and Jazzwise magazine for her outstanding achievements as a jazz vocalist plus her success at Leeds College of Music.
Noah, a talented multi-instrumentalist who specialises in playing the acoustic guitar, piano and percussion, draws influence from musical greats such as Bob Marley, Damon Albarn, Zack de la Roacha, Jamiroquai, Radiohead, Nick Harper and John Mayer to name but a few! Noah is also the front man of Huddersfield Dance/Rock band Project Sunset, where he displays another one of talents which is singing.
"Our aim is to create positive and real music with good vibes that in someway or another can reach everyone. :)"
Local audiences will remember Ruby's stunning performances of great new arrangements of jazz standards with pianist Dave Nelson.
See also