Bestselling author at Hebden Bridge booksigning
Friday, 14 May 2010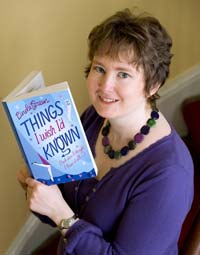 Local author Linda Green will be signing copies of her new novel at The Book Case in Hebden Bridge on Saturday – and hoping she has another bestseller on her hands.
Ms Green's last novel 10 Reasons Not to Fall in Love, which was set in Hebden Bridge, reached number 16 in the national paperback fiction charts and was the bestselling novel at The Book Case last year.
Now she is back with Things I Wish I'd Known, published in paperback by Headline Review on May 13, which is partly set in Todmorden.
Things I Wish I'd Known tells the story of troubled teenager Claire whose obsession with her football star idol spirals dangerously out of control in the mid-eighties. Years later she discovers a sealed envelope containing the '20 Years From Now' list she wrote as a teenager and realises how far removed her life is from the one she'd imagined. But her decision to try to put her life back on track by delving into the past has unforeseen consequences.
For Linda, who lives in Warley Town near Halifax with her husband and five-year-old son, the publication of this novel is particularly satisfying because she started writing it twelve years ago and received more than 100 rejections along the way.
Linda, aged 40, explained: "In 1998 I quit my job as a regional newspaper journalist to go freelance while embarking on my first novel.
"The coming of age story I wrote was never published but my next two novels were, so when my publishers gave me another two-book deal I decided to go back to my unpublished novel, take the characters in my coming of age story, rewrite it and revisit them to see how those early experiences had shaped their lives.
"I think Things I Wish I'd Known is a much better novel than the original version and shows the value of rewriting and of never throwing anything away.
"If you'd told me in 1998 it would take 12 years and more than 100 rejections before I finally saw my story in print, I would probably have been mortified! But I am proud of the fact I never gave up."
Linda, who has taught creative writing classes for the Workers Educational Association across Calderdale, lived in Todmorden for seven years, which is why she decided to use it as a setting.
"I even got a mention for Incredible Edible Todmorden in the book, as Claire has an allotment in Todmorden and there are several scenes set in and around the town."
Linda's previous two novels I Did a Bad Thing and 10 Reasons Not to Fall in Love have sold more than 150,000 copies between them and she is hoping to build on that success with her latest novel. She is currently writing her fourth novel which will again be set in Calderdale.
The author will be signing copies of Things I Wish I'd Known at The Book Case in Market Street, Hebden Bridge on Saturday May 15 from 11am–12noon.
Things I Wish I'd Known is published by Headline Review (£6.99). Website: www.linda-green.com