STATION FRIENDS GO INCREDIBLE EDIBLE
Friday, 21 May 2010
Inspired by the Incredible Edible Todmorden project Friends of Hebden Bridge Station volunteers have planted over the last two weeks some 50 fruit bushes along the edge of the station car park by the rail track and spread 20 tons of compost around them. This is all part of the Friends ongoing programme to improve the station environs and also to provide a community resource.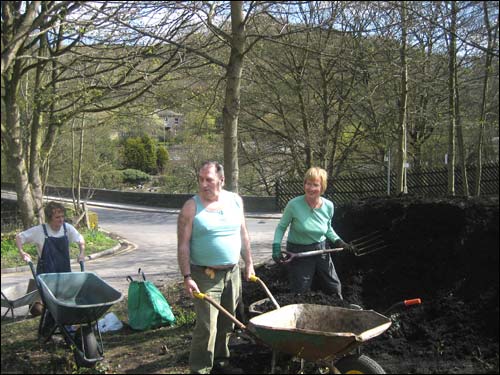 The bushes include black, white and red currants, blueberry and gooseberry and will be available for station users and visitors to "pick your own" when ready for harvesting. Funding for the project came through Calderdale's Upper Valley Safer Greener Cleaner Team who also supplied the compost.
Earlier in the year two Community Payback Teams helped clear the ground of tree roots and perennial weeds in preparation for planting by volunteers.
The Friends are always in need of more volunteers to help maintain the station gardens and keep the area neat and tidy and you don't need to be a rail buff to help.
See also