The Secret Diaries of Miss Anne Lister
Friday, 28 May 2010
Calderdale will be the focus of a brand new BBC Two drama on Bank Holiday Monday looking at the diaries of Anne Lister.
The Secret Diaries of Miss Anne Lister stars Maxine Peake as the Yorkshire landowner, industrialist, traveller and diarist. It will be screened at 9pm on BBC Two and BBCHD on Monday 31 May.
The drama will be immediately followed at 10.30pm by an accompanying documentary presented by comedy writer and presenter Sue Perkins, which tells the story of Anne Lister and the decoding of her diaries. The documentary was filmed at Shibden Hall and will feature shots of other areas around Calderdale.
Anne Lister, 1791–1840, was a lesbian who, despite needing to keep her orientation secret from society at large, defied the conventions of her times by living with her female lover. Anne kept a detailed account of her life, loves and emotions in a fascinating and painfully honest four million word journal.
A sizeable portion of the journal was written in code and the recent deciphering of these diaries provides an astonishing insight into the life of Anne Lister.
Local writer and historian (and consultant/ contributor for the BBC productions) Jill Liddington has written books about Anne Lister, two of which have been published by Pennine Pens who also publish the HebWeb.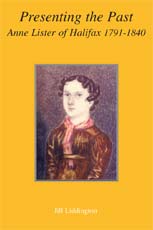 Presenting the Past:
Anne Lister of Halifax by Jill Liddington
Reprinted 2010
Presenting the Past: Anne Lister of Halifax 1791-1840 tells the dramatic story of how Anne's diaries survived after her death in the remote Caucasus. Successive generations of historians and editors have selected and presented their version of the Anne Lister story. Taking the reader into the Archives where the Shibden Hall papers are preserved, Presenting the Past offers the first critical reappraisal of these very different images of Anne Lister. More info £6.95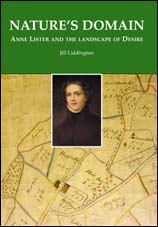 Nature's Domain by award winning Hebden Bridge historian, Jill Liddington tracks Anne Lister's intense courtship of Ann Walker, vividly and candidly recorded in Anne's daily journals - and partly written in her own secret code. More info. £7.50
See also