Hebden 500 - Exhibitions give a glimpse into the past
Monday, 31 May 2010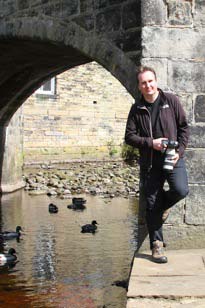 Glimpses into the past and present of Hebden Bridge are on show as part of the HB500 birthday celebrations, in exhibitions by an up-and-coming local photographer and a world-renowned Magnum photographer.
Bridges, by Hebden photographer Craig Shaw in collaboration with members of the Hebden Bridge Local History Society, brings together a collection of photos of the historic bridges in the area, along with information on their history and folklore and photos from the past.
Bridges is online at the Hebden 500 website and at the Trades Club on Holme Street from June 5 to July 31.
Craig is in good company. A collection of work by Magnum photographer Martin Parr has been put together for The Albert Street Years exhibition at the Hebden Bridge Arts Festival box office from June 12 to July 11. And, on June 29, Parr returns to the town to talk about his early work set in the local area in the mid 1970s. He appears at the Picture House at 8pm.
"I've always had cameras — from the basic ones I used as a teenager," says Craig Shaw. "Photography to me is about capturing the moment, and in particular people and their environment.
"I worked in the IT industry for more than 15 years, but a series of unforeseen events gave me the opportunity to stop, look around, and reassess what life was all about. It gave me the chance to do more of what I love, and I'm now pursuing a career in photography."
As well as his lifelong interest in photography, Craig is a keen amateur historian.
"The 500th anniversary of the packhorse bridge provided an ideal opportunity for a project combining my two passions, to help celebrate our past and share with visitors and residents some of the knowledge of how we came to be here," adds Craig.
Other exhibitions include 500 Faces, by another local photographer Jason Elliott, who has been capturing images of Hebden Bridgers over the last year. His exhibition runs from July 24 to August 21 at the Arts Festival box office. It's also online at 500 Faces.
Throughout the Arts Festival fortnight — June 26 to July 11 — artist-in-residence Lucy May Schofield will be creating a book to celebrate the history of the town and the birth of the printing press. She'll also be running workshops and her Bibliotherapy drop-in clinic.
There's a full listing of HB500 events at the Hebden 500 website.