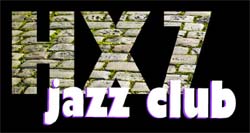 The Sam Crockatt Quartet
Hebden Bridge's HX7 Jazz Club celebrates its first half year on Thursday June 10th with the visit of the much-in-demand Sam Crockatt Quartet.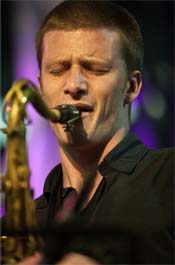 Performing with power and precision, the band has received massive interest since winning the Parliamentary Jazz Award for best album – 'Howierd', in 2009. As well as Crockatt on saxophones, the quartet features Kit Downes, one of the best young pianists in the country; his dazzling solos complementing Crockatt's sophisticated rhythmic flights. They are backed by the solid, driving rhythm section of one of the most in-demand bassists in the UK, Oli Hayhurst, and the forceful, yet sensitive drumming of the spectacular Ben Reynolds. This combination of friends and like-minded musicians has led to a band with a rich, cohesive sound that obviously enjoys playing together.
One of the most exciting young players on the London scene, Sam Crockatt is a founding member of the Loop Collective and has performed all over London and the UK at some notable venues including London's Ronnie Scott's, The Albert Hall, the Jazz Cafe, and the Sage Centre in Gateshead.
Influenced by Wayne Shorter and Joe Henderson, Sam has quickly built a reputation as a hugely talented musician working with Tim Garland's Underground Orchestra, Julian Arguelles, Stan Sulzmann and the Gwilym Simcock Quartet amongst others. "His love of an elegant melody is apparent throughout", writes Chris Parker of Vortex Jazz, "his light but strong, warbling, slightly smoky tenor sound perfectly gauged to bring out his tunes' freshness, grace and vitality".
"I've been playing the Howeird CD at the HX7 Club since we opened in January", enthused club organiser and presenter Dave Nelson. "It's a superb album with some truly outstanding compositions on it. Playing live at the Trades Club, I think the band's going to be even more exciting — especially with the enthusiastic crowds we've been getting on jazz nights".
HX7 Jazz is monthly on a Thursday at the Trades Club in Holme Street, Hebden Bridge. Future bookings include flamenco jazz from the Eduardo Niebla Quartet on July 8th, the Dagda Quartet on the 26th August, and the legendary veteran saxophonist John Tchicai (who performed with John Coltrane) in September.
More information is available at the HX7 Jazz Club website. Doors open at 8pm with a live music starting at 8.30, and the headline band starting at 9. As an added bonus the venue provides excellent value curries from early evening. Phone the Trades Club on 845265 to book a meal or to ring to book advance tickets which are £12, and £9 for concessions and members.