Craig Whittaker's Maiden Speech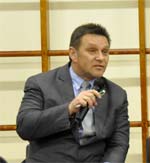 Thank you, Madam Deputy Speaker. May I join all colleagues who have spoken this afternoon in welcoming you to your new position? I also congratulate those colleagues who have made their maiden speeches — and some excellent maiden speeches there have been, too. I just hope that mine continues in the same vein.
I represent the wonderful and stunningly beautiful Calder Valley, which at more than 22 miles long has just five small but incredibly diverse townships, Todmorden, Hebden Bridge, Ripponden, Elland and, where I live, Brighouse. They are complemented by a cluster of villages, all nestled on some of Yorkshire's finest moorland.
The constituency was established at the 1983 general election, and since then it has had only two MPs. Some of our older, established Members will remember the first one, Sir Donald Thompson, for his wit and good old Yorkshire charm. As a Member for more than 18 years, he was a hard-working constituency MP whom most people still talk about today when one knocks on doors. Sir Donald, as he was affectionately known, was a solid, stout, no-nonsense Yorkshireman, who worked his way up through the Whips Office before joining the Ministry of Agriculture, Fisheries and Food as a junior Minister. Sadly, he passed away in 2005, but he is and always will be fondly remembered by the people of Calder Valley.
Chris McCafferty, who had been the MP for the past 13 years, was also known as a good constituency MP. She was a member of the Procedure Committee and the International Development Committee. More importantly, since 1999 she has been a member of the Parliamentary Assembly of the Council of Europe, and she has won a great deal of respect for her commitment to overseas development, sexual health and, most important, the rights of women.
Those were two good, strong local MPs, who, in the true spirit of Calder Valley, excelled in many ways, like so many more of the local people who were born there. In Brighouse and Rastrick, for example, we have the world-famous brass band who, in 1977, stayed at No. 2 in the singles charts for nine whole weeks with their version of "The Floral Dance". Even today, they are considered to be the best public subscription band in the country.
Hebden Bridge saw the birth of Sir Bernard Ingham, who was Margaret Thatcher's press secretary and a newspaper columnist. Mytholmroyd saw the birth of Ted Hughes, the late poet laureate, who passed away in 1998. His first wife, Sylvia Plath, is buried in our hilltop gem of a village, Heptonstall. Earlier this afternoon, two colleagues mentioned John Wesley. In Heptonstall, we have the oldest Methodist chapel in continuous use not only in Britain, but in the whole world. I am incredibly proud to say that it is also a place where my three beautiful children all went to Sunday school.
Who could forget the town of Todmorden, which has had more Nobel prize winners than 28 countries? It also has the same number of Nobel prize winners as a further 10 countries; and the country of New Zealand as a whole boasts only one more prize winner than Todmorden. Sir John Cockcroft won the physics prize for splitting the nucleus of the atom, and Sir Geoffrey Wilkinson pioneered inorganic chemistry and transition metal catalysts. The amazing thing about these two men is that despite their being a 24-year gap between them, they were both taught at Todmorden grammar school by the very same science teacher, one Mr Luke Sutcliffe — an amazing teacher who taught two amazing students.
That brings me nicely to another amazing group of students. I want to talk about the educational attainment levels of looked-after children in our country. This is about poverty on an amazing scale — educational poverty. Incredibly, Sir Donald Thompson, in his own maiden speech some 31 years ago, talked about the attainment levels of children through education back then. Although the percentage of year 11 looked-after children who achieve five A* to C grades at GCSE has doubled in the past 10 years, it is incredibly sad that that number still only accounts for 14% of them. Nationally, more than 13% of our looked-after children still miss more than 25 days of schooling, sometimes because of exclusions. A third of previously looked-after children are not in education, employment or training at the age of 19. A total of 22% of persistent young offenders were being looked after by social services, and a staggering further 27% had been looked after previously.
Earlier, a colleague talked about aspiration. In 2005, a research report by the Frank Buttle Trust showed that only one care leaver in every 100 children goes to university — a staggering 1%. In 2008, "Care Matters", the ministerial stock-take report by the then Department of Children, Schools and Families, showed that 7% of care leavers went to university. Whatever the current figure is — whether it is 1% or 7% — it compares with 43% of all other children. Frankly, that is not good enough.
In Calderdale, where I have spent the past three years as lead member for children's services, I am glad to say that our looked-after children do significantly better than the national picture. Sadly, however, it is still not good enough. We have a fabulous team in Calderdale who strive for excellence in attainment for our looked-after children. I am incredibly proud of two of the last things that I did as lead member before coming to this House. First, I secured money to fund a virtual head teacher for our looked-after children in Calderdale. In itself that is not unusual, but it is an important and significant step forward for those children. Secondly, under the superb leadership of Councillor Stephen Baines, the Conservative leader of Calderdale council, last year we became only the second authority in the United Kingdom, after Rotherham, to introduce a virtual library so that every child under the age of five gets a free book monthly. That is unusual in itself, but in conjunction with the facilities at Sure Start children's centres, where parents who cannot read are also taught to do so, it is a perfect way of starting to break the cycle of poverty.
I am proud also to say today that I have written to several prominent local people from the Calder Valley to ask whether they will sit on my MP's charity, which will be established purely to consider what value we can add to driving the attainment levels of looked-after children. That is intended not to replace what the local authority does but to add value and raise awareness of the need to support our looked-after children and help break the poverty cycle.
I support the Government's policy on poverty and look forward to playing my part within the House and outside in helping to reduce it.