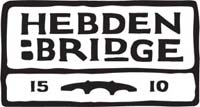 Birthday party draws crowd of hundreds
Monday, 21 June 2010
Hundreds of people filled St George's Square and Bridge Gate to see the mayor, Robin Dixon, and his guests walk across the 500-year-old packhorse bridge with a real packhorse to officially launch Hebden's biggest ever birthday party.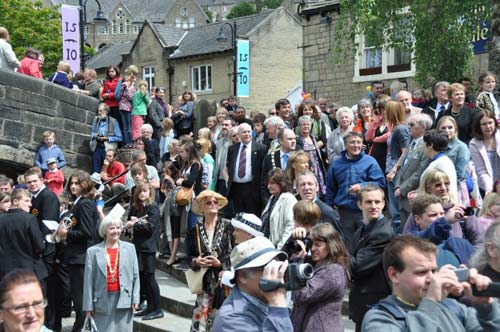 There was mediaeval flute music from Seeds of Time, mayhem from Will Tease the Jester and his troupe, a performance from Hebden Bridge Junior Band and an awesome mascletà, a soundscape of bangs and cracks.
Even before the shock of the mascletà had time to fade, there was a hint of the spectacular surprises in store at this Saturday's Handmade Parade, as the Parade's own samba band, stilters and puppeteers appeared across the bridge and from the square to perform for the crowd.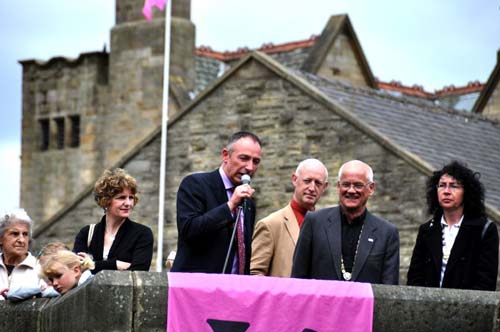 Master of ceremonies was Jason Elliot, who welcomed the mayors and chairs of surrounding parish councils, guests, visitors and all the residents of Hebden Royd.
The president of Hebden Bridge Local History Society, Frank Woolrych, explained some of the history of the bridge, how Hebden Bridge developed around it and why it was so important to the growth of the Calder Valley.
The oldest surviving mayor of Hebden Royd, Richard Marshall, talked about the parishes before Calderdale was created in 1973, and the vicar of Hebden Royd, the Rev. Howard Pask, spoke of the bridge as a symbol for the people of Hebden Royd and why people viewed it with such affection.
The current mayor of Hebden Royd, Robin Dixon, thanked people for turning out to share the celebration.
Hebden Bridge Junior Band played Happy Birthday to the bridge as people took one of the 500 birthday buns and collected a badge as a memento of the day.
"What a great way to celebrate Hebden's bridge," said Robin Dixon. "I've never seen such a big cake. It was a real community event because so many local people and organisations got involved, and it just shows what we can achieve together. Fantastic!"
Allan Stuttard, clerk to Erringdon Parish Council, described it as a "fabulous" day — and said he hoped to be around for the next birthday.
Town Clerk Jason Boom, who had been up early in the morning wading in the river to ensure it was pristine for the special day, said that, although he knew the mascletà was coming, even he was impressed by the aural avalanche.
Although the cakes may have gone, the birthday party isn't over yet. There are still lots of events planned for the second half of the 500th anniversary year.
HB500 events still to come include the Hebden Bridge Handmade Parade from 2pm on June 26; an exciting re-enactment of the Battle of Heptonstall on July 10 and 11; the folk roots festival on July 17, plus a poetry slam, the Hebden Howl town criers' competition and more.
There's a full listing of HB500 events at www.hebden500.co.uk