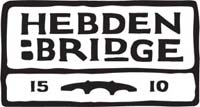 Royalists and Parliamentarians clash in Hebden Bridge
Sunday, 11 July 2010
History came to life at the weekend as hundreds converged on the packhorse bridge in Hebden and at Heptonstall village to see Royalists and Parliamentarians fighting it out as they had done more than three centuries ago.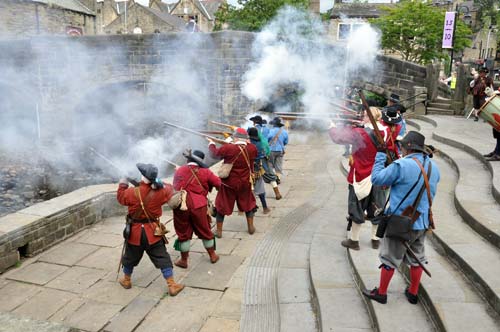 The weekend of skirmishes, pike drills — and even an execution by firing squad — was the historical highlight of the celebrations to mark the 500th year of the old packhorse bridge in Hebden.
John Lilburne's Regiment of the Sealed Knot came to the area over the weekend to help recreate events that took place around the bridge in 1643.
A fascinating display in St George's Square started the two days of events, and was followed by a re-enactment of what may have happened when the Royalist scouts with the attacking force from Halifax encountered Parliamentarian pickets from the garrison in Heptonstall, who were guarding the only route across the river at the time. The Royalists managed to defeat the pickets but, in the original battle, went on to face defeat at the Buttress during the assault on Heptonstall.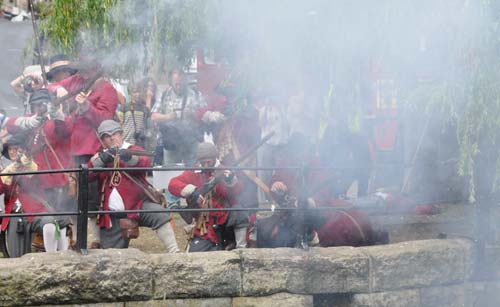 Back in the 21st century, the action moved up to Heptonstall for a display of arms in Weavers Square. Local children had a chance to learn 17th century drill before a parade to Heptonstall Social and Bowling Club and a demonstration of musket and artillery firing.
Major Tim Worrall of Lilburne's said the crowds had obviously enjoyed themselves, and so had members of his regiment.
"Members of the Sealed Knot had a very enjoyable weekend and were overwhelmed by the warmth of the reception and the interest shown by the audiences.
"If anyone would like further information or would like to join the Sealed Knot, then they can contact us by visiting our website www.lilburnes.com," said Tim. "We are keen to welcome individual members or families to our ranks."
The event was organised by Hebden Bridge Local History Society with financial assistance from the business and economy section of Calderdale Council, Hebden Royd Town Council and Heptonstall Parish Council.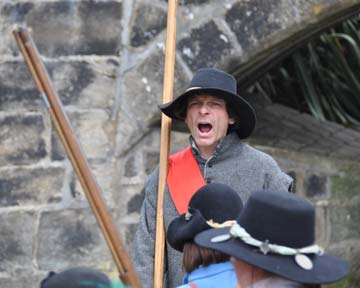 History Society Secretary Diana Monahan said, "The weekend brought together a diverse group of helpers such as Heptonstall Social and Bowling Club, Heptonstall Parish Church, Heptonstall Forward, the White Swan, the Hole in't Wall, Heptonstall Museum and many individuals. I would like to thank them all very much for making my role as co-ordinator so much easier."
The Bowling and Social Club organised a pig roast and the Hole in't Wall pub in Hebden brewed a special beer for the battle too.
Celebrations for HB500 continue with the Hebden Bridge Folk roots festival on July 17; the first Hebden Bridge Festival of Faith and Spirituality from July 23 to 25; the Great Crown Crossing on July 31 and August 1; a poetry slam on August 15 and the ale proclamation and Hebden Howl on August 27 and 28.
There's a full listing of HB500 events at www.hebden500.co.uk