Comedy, Reggae and Strictly Come Tango Dancing at the Trades
Monday, 2 August 2010
Selling more than 3000 tickets for over 50 events across 19 venues including a converted Routemaster bus, organisers are thrilled with the response to this year's programme. Maggie Holborow, who runs the Festival box office said: "We've had a record number of sellout events and have definitely reached some new audiences".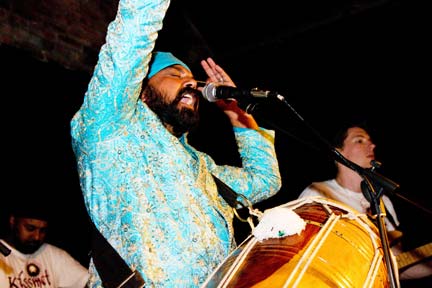 Kizzmet at the Trades
Photo: Sarah Mason
"It's been a great fortnight," said Festival Coordinator Rebecca Yorke. "We've received some very appreciative feedback from both audiences and performers. Locals and visitors alike have enjoyed a range of events from The Hebden Hop to a screening of Nosferatu at St Michael's Church in Mytholmroyd. The introduction of online booking has been a great success and photographer Sarah Mason has recorded some special Festival moments."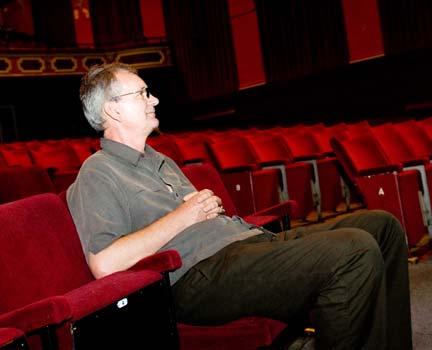 Talked-about highlights of this year's Festival include Martin Parr talking about his work to an audience of 420 at Hebden Bridge Picture House and the performances of six new plays, 'Hebden Shorts' at Hebden Bridge Little Theatre. Penned by local writers, and professionally directed, the casts of the Shorts included award-winning actress Eileen O'Brien and Emmerdale actors Dominic Brunt and Mark Charnock, as well as the members of a local 5 a-side football team. Speaking of his performance in Stephen Brady's 'Half Time', Simon Waring said: "All the team had a fantastic time and thoroughly enjoyed the opportunity to be involved in this show as part of the Festival".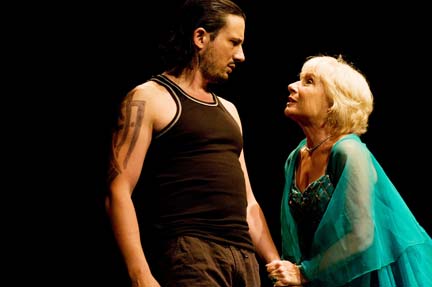 Alex Baldacci and Eileen O'Brien in The Oyster Vault
Photo: Sarah Mason
Other highlights were a lively evening of readings and questions with Tudor writers Alison Weir and Suzannah Dunn, and the Festival's Artist in Residence Lucy May Schofield, who ran workshops alongside her project to create a book to celebrate the Festival. The Hebden Hop in Mytholmroyd and Kissmet at the Trades Club were both sold out on the opening night of the Festival – and on Thursday 8 July, the Festival achieved a hat-trick of sellouts. The Trades Club and Hebden Bridge Little Theatre were packed for performances by Eduardo Niebla and Hebden Shorts, while around the corner Rich Hall played to a full house at Hebden Bridge Picture House.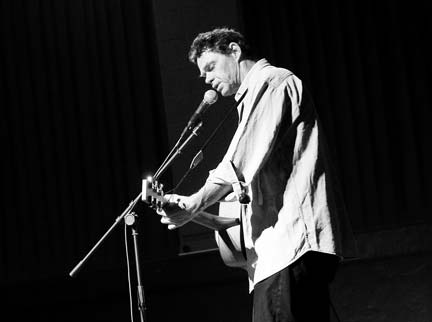 Rebecca continued: "As well as celebrating all that art has to offer and bringing visitors to the area, the Festival contributes significantly to the local economy. We have continued to develop our relationships with local businesses and in particular would like to thank Croft Mill, The Book Case, The Willow Garden, Print Bureau, Squeeze, Little Valley Brewery and Hole in t'Wall for their support. We're very grateful to our sponsors Sweet & Maxwell and Kala Gallery, and to funders Hebden Royd Town Council, Arts Council England and Calderdale Council. We'd also like to thank everyone who took out an advert in the programme or offered support in kind. And of course, our team of nearly 50 volunteers, without whose time and hard work the Festival could not take place."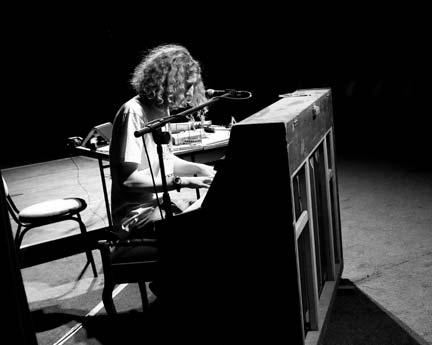 Although the organisers are ready for a well-deserved rest, discussions about next year's Festival are already taking place. "There's not really much let-up between festivals" explained musical programmer Dave Nelson, "We've already got artists lined up for 2011!" To keep informed, keep visiting the Festival website.