NEW TRUSTS SET TO BECOME FIRST SUSTAINABLE TRANSPORT BUILDINGS
Friday, 16 July 2010
Two Yorkshire community-led trusts are pioneering a novel way of ensuring high standards of sustainability in building design and management by committing to meet the goal of becoming Sustainable Transport Buildings.

Hebden Bridge Community Association, which is planning an enterprise centre on land in the centre of the town, and Newlands Community Association, which is developing a eco business park for small businesses in north Bradford, have developed the concept of the Sustainable Transport Building. Both now plan to be the first organisations in the country to merit this status for their own developments.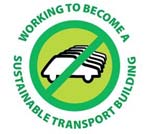 The two organisations define a sustainable transport building as one which actively encourages the use of public transport, cycling and walking, as an alternative to the unnecessary or excessive use of private cars. Building location, design and operation are all taken into account.

Andrew Bibby, trustee of Hebden Bridge Community Association, says: "We're working with our architects to design in facilities such as cycle storage and showers to encourage the future users of our building to leave their cars at home. We have a host of ideas for ways we'll be able to encourage sustainable transport alternatives, from real-time train departure information in the foyer to access to professional cycle servicing whilst the bike owners are at work."
Tony Holdich, business manager of Newlands Community Association says: "Our planned Newlands Enterprise Park is going to be the largest straw-bale building in Europe, and we're already making sure that it meets very high standards of sustainability in terms of energy use. Our commitment to becoming a Sustainable Transport Building is another way for us to demonstrate the importance we give to green issues."

The development of the Sustainable Transport Building concept has been welcomed by the national sustainable transport charity Sustrans.
"One of our aims is to encourage the innovative use of active transport alternatives in the workplace. We're delighted that the community associations in Hebden Bridge and Newlands are making this pledge. By designing in creative transport solutions at an early stage of a building project, they will be able to help bring about a reduction in car use and traffic problems in the future," says David Hall, regional director, Yorkshire and the Humber.

Hebden Bridge Community Association and Newlands Community Association are both active members of the Development Trusts Association, and other Yorkshire development trusts are also discussing joining the new scheme. Hebden Bridge Community Association took over control of the town's Town Hall in April this year from the local authority Calderdale, in one of the first asset transfers of its kind in Britain. It is well advanced with plans to build on land at the side and rear of the Town Hall. Newlands Community Association, established in 1996, operates five existing community and enterprise facilities in north Bradford. It hopes to begin construction of its new Enterprise Park early next year.