Launch of '500 Faces' Exhibition
Thursday, 22 July 2010
The two year long odyssey of local entrepreneur and photographer Jason Elliott reached a high point today, with the launch of the '500 Faces' Exhibition at the Hebden Bridge Arts Festival Shop on Albert Street.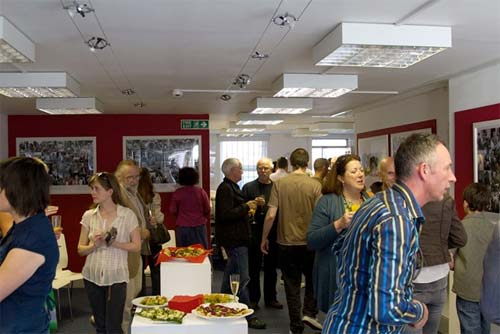 The 500 Faces project is one of the highlights celebrating the 500 year anniversary of the packhorse bridge in Hebden Bridge, and is a photographic record of many of the people of the town, from the well known to the not so well known.
At a private party celebrating the event on Friday evening, Mayor Robin Dixon, Mayoress Catherine Dixon and MP Craig Whittaker were among other local dignitaries in attendance. At a presentation ceremony, ownership of the collection of photos was formally given to Hebden Royd Town Council, as a time capsule and record for future generations.
The 'contract', written in the official Hebden500 font by Frogs Design, was signed by Councillor Robin Dixon and Jason, and witnessed by Mr Whittaker. As part of the terms of the ownership of the collection, the project will be on show to the public at least three times a year.
Invited visitors to the event, many of whom had been photographed for the project, were pleased with their own portraits taken by Jason, and impressed with the collection as a whole, which was on view for the first time.
'500 Faces' can be seen in its entirety on the web at www.500faces.co.uk and will be on view at the Arts Festival Shop until 21st August.