Coming together to help relieve Pakistan's suffering
Thursday, 2 September 2010
More than 20 million people have lost their homes and livelihoods in the floods which have been sweeping through Pakistan.
Whole cities have been evacuated as Pakistan's flood surge travels south down the Indus River. In the latest development, over half-a-million people have been ordered to evacuate their homes in Pakistan's southern province of Sindh.
Three more towns are now threatened by floodwaters, and there is concern about the fate of Pakistan's sixth largest city - Hyderabad.
Now, faith communities across Calderdale are appealing to the people of Calderdale to help relieve the suffering of millions of people affected by the floods.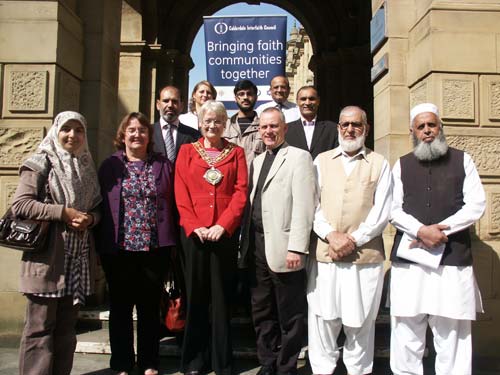 From right to left ? Front row - Mr Sultan, Madni Mosque; Mr Tariq, Elland Mosque; Hilary Barber, Vice Chair Calderdale Interfaith Council; Cllr McAllister, Mayor of Calderdale and Chair of Calderdale Interfaith Council; Cllr Battye, Leader of Calderdale Council; Tanveer Bostan, Calderdale Interfaith Council member.
Second Row ? Cllr Mahmood; Raja Taufique, Faith Ambassador Calderdale Interfaith Council; Cllr Ilyas.
Third row ? Gian Gabbi, Hindu and Sikh faith representative; Ramona Cleasby, Baha'i faith.
Calderdale's Interfaith Council, which represents faiths from across the borough, is to appeal for donations to help the flood victims. The Interfaith Council is being supported by Calderdale Council, which has arranged to collect public donations.
From Monday September 6, donations can be made at any of the following premises:
Hebden Bridge Library
Halifax Town Hall
Princess Buildings, Halifax
Northgate House, Halifax
Westgate House, Halifax
Doorways Centre, Halifax
Customer First, Todmorden
Brighouse Civic Hall
Halifax Central Library
King Cross Library
Todmorden Library
Brighouse Library
Halifax Central Initiative, Park Ward
Elland Cash Office
Sowerby Bridge Cash Office
Calderdale's Interfaith Council Chair, and Vicar of Halifax, Hilary Barber, said:
"As members of faith communities of Calderdale, we are united in expressing our sympathy and support for the people of Pakistan. It is a time for Calderdale people to come together and reflect on the hardship and suffering that communities are facing through the devastation caused by the recent floods.
"As leaders of faith groups we come together in prayer and thoughts for the people who have lost loved ones and those who are suffering from hunger, illness and shelter.
"Calderdale Interfaith Council and Calderdale Council are placing themselves at the heart of this fundraising appeal and are asking the Calderdale community to donate to this humanitarian disaster."
The Mayor of Calderdale and Chair of Calderdale Interfaith Council, Cllr Ann McAllister, says: "The devastating floods are the worst in Pakistan's history; millions of lives have been affected by the disaster.
"The people of Calderdale have always shown an enormous generosity of spirit. Calderdale Interfaith Council and Calderdale Council hope that people will join hands to show unity in helping to alleviate the suffering of the millions affected by the worst humanitarian disaster to hit the region."
Local mosques across the borough have so far collected more than ?100,000 that has already been sent to trusts in the UK and Pakistan to provide aid for those affected.
Council action to help collect funds for the Pakistan Flood Appeal has been welcomed by Councillor Mohammed Ilyas (Liberal Democrat, Park ward), who had raised the issue when the floods started.
Cllr Ilyas said: "I am pleased that the Council is helping out in this way. It will make it much easier for individuals to contribute to the Flood Appeal. Local communities have already contributed a fantastic amount of money to this appeal but more needs to be done and the Council's actions will help this to happen".
"I and many others in my ward are proud to be British, but we also still have strong links with the area affected by the floods and want to help out as much as we can. I am also very pleased at the response from the British people who have responded to the appeal in a very generous manner".
"Like a number of other councillors, we give some of our Councillors' Allowances to charities and I will be giving the increase we were awarded last year to this very worthwhile cause. I hope that local people will continue to give generously and take advantage of the collection points being set up by the Council. The need for financial aid is extremely pressing and I am sure everyone will do what they can," said Cllr Ilyas.