GinnelGate: Scaling the Wall
Saturday, 18 September 2010
Residents and parents of children at Stubbings infant and junior school are up in arms about the unilateral actions of one of their neighbours, who has walled up access to an ancient footpath in Birchcliffe, a steeply terraced, conservation area of the town.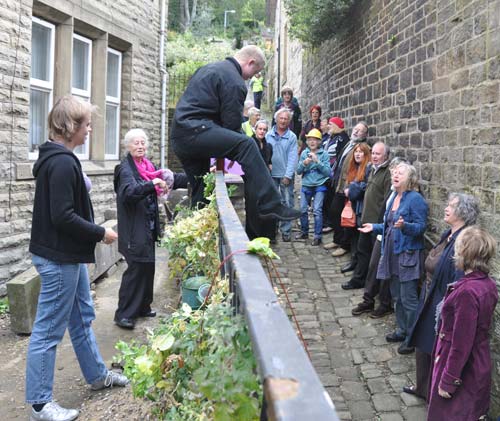 This morning, Saturday 18 September at 10.30 am residents of St John's Close and their visitors took direct action and 'scaled the wall' which has been built across the pathway through the close on to Bankside footpath. Individuals from a local choir sang 'Break'em on down, these walls between us!' to accompany the climbers. There followed a gathering over tea and cakes, with friends living on Bankside and on streets further away, all affected by this walling up.
Angie Barrs told the Hebden Bridge Web, "The cobbled ginnels are the very arteries that keep this wonderful and unique town of ours alive; often quickly linking parts of town that are hard to reach by car. They were built by our ancestors and we feel we have a duty to ensure that they continue to be accessible and used, not just for our own benefit but for the future too, so that generations to come can enjoy them.
"We set up the Ginnelgate Campaign to ensure that access to this footpath is restored to use. It's absolutely vital that anyone who has used the path, especially over many years, gets in touch with Calderdale Borough Council at (weblink/telephone number.)"
Gwen Goddard added:"We were absolutely delighted at the number of people who came to support us, climb the wall, sing, and join us for refreshments. The whole morning was a positive celebration of community spirit. We're not interested in being confrontational or aggressive about this; all we want is for the path to be restored to use, the obstruction removed and the beautiful Victorian iron gate put back in place."
BACKGROUND
Developers at No 4 with residents of 4b have removed the stone pillars and wrought iron gate which used to stand between the end of the close and the cobbled pathway called Bankside or Stubbing Footpath. The local community have used this route for decades and although it isn't yet a Public Right of Way, there are many Evidence of Use forms now lodged with Calderdale as part of a campaign. Residents at No 1, 2 and 3 have had their own access rights compromised by this walling up. Despite part of the close being private land, those residents whose housefronts the route crosses are accustomed to pedestrians using the route. Friends and neighbours have been outraged that they can no longer use a much-loved shortcut to visit each other. Early this year, part of the wall collapsed. The resident of No 4 told those enquiring that after repair, he would reinstate the gate, which had been temporarily tied up. Instead, it stands propped up.
This conservation area includes buildings and paths centring on the close where two separate churches and a Sunday school were used by local people through most of the twentieth century.
Letters to the local paper over four weeks support the unblocking of the route, especially today from parents of children attending Stubbings School, who are concerned that their children now must walk along Birchcliffe Road, a dangerous route where HGVs regularly mount pavements at narrow points. Our community website Hebden Bridge Web provides a forum thread where discussion has kept this issue very much alive.