Calderdale planners give green light to Town Hall plans
Wednesday, 27 October 2010
Hebden Bridge Community Association is delighted that its plans to extend the Town Hall have been given planning consent. The decision, taken by councillors at last night's planning committee, will potentially give the town major new community and civic facilities, as well as opening up the river Hebden waterfront for a new public square.

Peter Hirst, chair of the Association's trustees, says: "This decision is the one which we have been working towards for two years. The planning committee, as is only right, asked probing questions about all aspects of the design, and we are delighted that the final decision to support our application was taken by them unanimously. We pledge to the people of Hebden Bridge to create a brand new focal point for our town of which everyone can be proud."
The designs, which were worked up by Yorkshire architects Bauman Lyons, followed extensive public consultation.

"This is the second piece of good news in two days. On Monday this week, Calderdale's Cabinet agreed to extend our leasehold tenure of the Town Hall from 40 to 125 years. This puts in place another requirement we need to meet to get the funding for the project confirmed."

The building work is planned to comprise both major restoration of the existing Town Hall (including work to make it accessible to all) and the new-build wing, which will house a multi-function hall, meeting space, a rehearsal room for use by the Light Opera and Youth Theatre groups, and small enterprise space. The total cost is estimated at ?3.75m.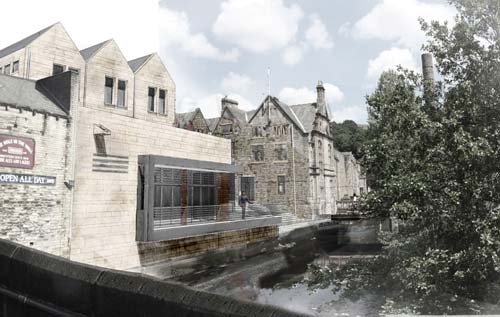 Funding for the project is anticipated from Communitybuilders, a specialist investment fund for community-run hubs, and the European Regional Development Fund. Last month Communitybuilders committed in principle to ?2m funding, made up of a ?750,000 grant and a ?1.25m mortgage loan, and the detailed terms of the proposed funding are now subject to negotiation by Hebden Bridge Community Association. The application for European grant-funding is well advanced, and a decision is expected before Christmas.

"Planning consent is another hurdle overcome. We now need to try to confirm that the funding package is there. If so, we anticipate building work commencing in late Spring," Peter Hirst says.

Full details about developments at the Town Hall since it became community-owned and managed in April this year will be given at the Association's AGM, which has been set for Thursday November 25th in the Town Hall at 7.30pm. All members of the Association will shortly receive invitations to this event.
Previously
Calderdale Council give 125 year lease for Town Hall (Oct 2010)
Town Hall Development Plans go to Calderdale (16 July 2010)
Community-run Town Hall to honour co-operative pioneer (June 2010)
Public consultation on Town Hall plans (May 2010)
Hebden Bridge Town Hall passes into Community Ownership (March 2010)
Association seeks Treasurer to take on Town Hall role (2 March 2010)
Invitation to see plans for Town Hall (Feb 2010)
Weddings and civil partnerships at Town Hall (Jan 2010)
Town Hall Future Secure (Dec 2009)
Open Doors at Town Hall attracts hundreds
One of England's smallest parishes makes big contribution towards plans for Hebden Bridge's Town Hall
Two major grants boost Town Hall Project
Town Hall Group seeks 'Friends' (April 2009)
Hebden Bridge Town Hall project: Transfer of Town Hall to community ownership one step closer (March 2009)
HebWeb News: New Charity created to manage Town Hall (Jan 2009)
HebWeb News: Government gives thumbs up to Hebden Bridge Town Hall plans (July 2008)
HebWeb News: Plans to put Town Hall once again at the heart of local life (October 2007)