THESE HEELS ARE MADE FOR WALKING
- Husbands, Partners, Boyfriends, Sons,
Male Friends, Uncles, You?

Thursday, 28 October 2010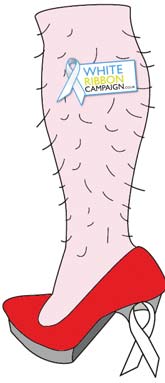 Walk starts at 11:00am on 20th November 2010 at The White Swan.
The White Ribbon Campaign is the largest effort in the world of men working to end male violence against women. These Heels Were Made For Walking Charity Walk is part of White Ribbon Week and the lead up to White Ribbon Day on the 25th November.
However, this is a walk with a difference! Each participant will be slipping on a pair of high heels and following a set route around Hebden Bridge. The event starts off with refreshments and entertainment. Then it's a quick squeeze into your heels and off we go! The route of the walk will be announced on the day but don't worry. No hills, just a few cobbles!
So come on down with friends and family who will support you and rub your sore feet at the finish line where your fundraising will be recognised with a personalised certificate! We hope this will be a bit of a giggle but remember, these men are standing up (possibly wobbling) and speaking out against Male Violence towards Women.