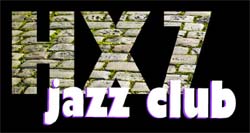 Troyka
HX7 Jazz is back on Thursday November 25th with Troyka: an extraordinary trio featuring Kit Downes who, as a short-listed nominee for the Mercury Prize, has recently been featured extensively on national television.
Troyka are Chris Montague (guitars and loops), Joshua Blackmore (drums) and Kit Downes (organ); three young musicians based in London whose intense live shows have seen them hotly tipped to follow in the foot steps of Polar Bear & Portico Quartet to become the next young band to explode from the capital's fertile jazz scene.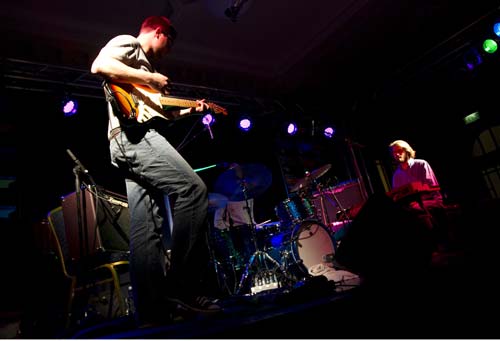 Troyka's contribution to that scene features an uninhibited collision between jazz, rock, free improvisation and funky jamming. This is a completely different direction from Kit Downes' previous band Empirical, who incidentally performed to a full house at the Trades Club during the 2009 Arts Festival. Downes is well known as an acoustic pianist, performing with the likes of Sam Crockatt and also with his own trio, but in Troyka he concentrates on the organ, exploring its more unusual and raucous settings.
The guitar and drums add to the forceful and exhilarating jazz-rock feel with angular riffs and changing rhythms, whilst Downes jams out on his electro-warbled keys. It's a remarkable line-up delivering a highly contemporary and unique jazz fusion that erupts with power chords and prog rock organ bursts, and even features the occasional bluesy bottleneck slide guitar. John Fordham writing in the Guardian describes the band as ". . . an absorbing conjunction of dance beats, abstract electronica and ambient music, guitar funk that John Scofield would be proud of, and John Zorn-like free jazz".
"Troyka have come in as a late replacement for the Froy Aagre Quartet" commented HX7 organiser Dave Nelson, "but if anything they're probably better known and even more exciting, so I think we've been very lucky to get them at such short notice - especially with all the accolades being heaped on Kit Downes since the Mercury Prize awards!"
HX7 Jazz is monthly on a Thursday at the Trades Club in Holme Street, Hebden Bridge. Future events include on December 23rd the HX7 Club's Christmas celebration with top Leeds sax player Toby Greenwood's We Free Kings, then in January the club celebrates its first birthday in style with the Ben Crosland Quartet, top Irish band Zrazy, and the first ever performance by the Dave Nelson Trio. Sunday lunchtime jazz with bassist Bruce Reid's all-star Trashcan Collective is on December 19th, and on December 5th HX7 presents a night of Jazz-Electronica with Orfeo 5 and Token Otter.
More information is available at the website www.hx7jazz.com, where you can also sign up to be kept informed of developments as they happen. Doors open at 8pm with a live music starting at 8.30, and the headline band starting at 9. As an added bonus the venue provides excellent value curries from early evening. Phone the Trades Club on 01422 845265 to book a meal or to ring to book advance tickets which are £12, and £9 for concessions and members.