Flamenco Dancers beat the winter cold
Wednesday, 29 December 2010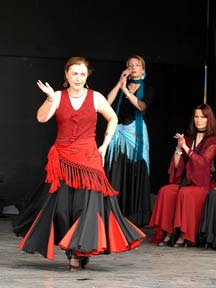 Flamboyant Spanish Flamenco dancing came to the Calder Valley in the late 1990's and is still going strong here. Colour, castanets and driving rhythms attract travellers to flamenco shows in Andalucia, Southern Spain. But you can enjoy taking part here Hebden Bridge, with an enthusiastic group of aficionados who meet to learn and practice flamenco dance weekly in the Hope Baptist Church, Cheetham St. and there are places available for beginners with no experience!
Local Flamenco dance teacher Patricia Skeet explains, "flamenco is really a fusion of traditional Spanish music and dance with Gypsy, Byzantine, Sephardic and Moorish elements. It is the music of Andulusian gitanos (gypsies) but also has roots in mainstream Andalucian society. As well as legendary Gitano performers, many well-known flamenco artists have been born outside the gitano community.
Latin American and especially Cuban influences also bring a lighter tone and 'song' to the deep traditional 'cante jondo'. On November 16th 2010, UNESCO added the Spanish flamenco tradition to its list of 'Intangible' elements of World Cultural Heritage, recognising it as a living cultural heritage."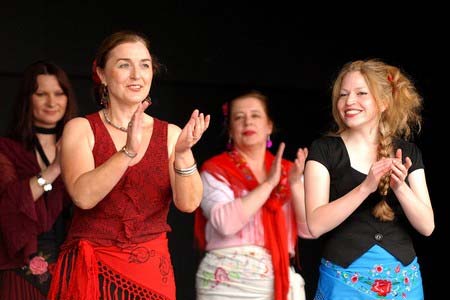 Flamenco baile is a dance of passion, courtship, expressing a wide range of situations from sadness to joy. The technique is excellent for posture, strength and confidence. Men do more footwork while women perform gentler, more sensual movements. Anyone can join the Beginners classes, with no previous experience, and get expert tuition in a fun and friendly environment. Most classes have flamenco guitar accompaniment from Leeds guitarist Mike Holland. We love our flamenco but we also love to have a laugh!
Flamenco dance classes run every Friday in school term time. They are a great way to beat those cold weather blues. Hope Baptist church, Hebden Bridge.
Beginners, Friday 1-2 p.m. And 6-7 p.m.
Improvers: Friday 7-8 p.m.
Intermediate: 8.00-9.30 p.m.
We also provide school workshops and Children's classes also run occasionally. Contact Patricia on 07949050039 for details or see our website: Hebden Bridge Flamenco