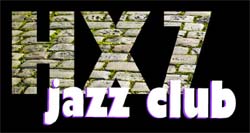 Zrazy and The Ben Crosland Quartet
It's the HX7 Jazz Club's 1st birthday this month, and to celebrate they're putting on a lavish musical spread (actually there may well be proper birthday cake too!) with two excellent bands co-headlining - plus the debut performance of the Dave Nelson Trio!
The party takes place on Thursday January 27 at the earlier time of 8pm (doors open at 7.30) and features (all the way from Dublin) the wonderful Zrazy, followed by (from much nearer home) the equally excellent Ben Crosland Quartet.
Zrazy is singer Maria Walsh (also flute and percussion) and pianist Carole Nelson (also saxes, whistles and voice). For this performance they are supplemented by Bruce Reid on double bass and Rob Turner on drums.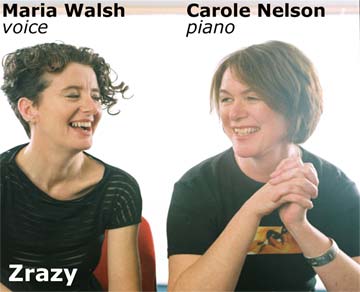 "Combining the warm, compelling vocals of Maria Walsh with the compositions and lyrics of pianist Carole Nelson, Zrazy have won the hearts of audiences worldwide. Their career spans two decades, 5 CDs, a host of national and international awards and has seen the duo expand into one of Ireland's most acclaimed jazz ensembles.

Performing their unique brand of jazz, bluesy soul and latin with material from their latest project The Silence of Clouds which marks a new direction in sound. It has spiritual integrity, is mature, lyrical, open, transcendent and draws on all facets of Carole and Maria's musical world: classical, traditional Irish and jazz improvisation.
A performance not to be missed!"
The Ben Crosland Quartet features a musician who performed at the first HX7 Club a year ago (Rod Mason), and another who, although only depping with We Free Kings, was absolutely outstanding at the most recent club night before Christmas (Paul Kilvington). It's a pleasure to be welcoming them both back.
Ben Crosland formed his new Quartet, his current working band, in 2006, bringing together his long term playing partner, Rod Mason (saxophones) with Paul Kilvington (piano) and Dave Hassell (drums), two of the stars of the vibrant Manchester jazz scene. Each member of the band is a leader in his own right and this relaxed joining of kindred spirits produces an open, mature and energetic performance in which there are no conflicting egos, only a desire to enjoy each others company, play good music and entertain.
The band's repertoire consists of Crosland originals and compositions by contemporary musicians including Don Grolnick, Michael Brecker, Jim Hall and Keith Jarrett.
See also