Holocaust Memorial Day - Untold Stories
Tuesday, 18 January 2011
An evening to reflect on past genocides and look at present day hate crime is taking place at the Victoria Theatre on 27 January.
The Council marks Holocaust Memorial Day each year by inviting victims of hate crime to speak about their experiences. It provides an opportunity for guests to reflect and learn from their experiences and commemorate the day with prayers and music.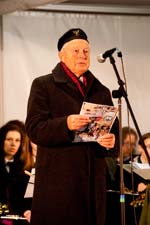 Rudi Leavor (pictured left), Holocaust survivor, chants "El Male Rachamim" at each year's event.
This year's speakers will include Kongosi Mussanzi, a Congo genocide survivor and Roben Mutwira, a Zimbabwe genocide survivor. There will also be survivors from the Holocaust sharing their stories.
This year will be the fifth Holocaust Memorial Day event held by Calderdale Council. Last year's success led to the Holocaust Memorial Day Trust asking the Council to act as the Beacon Event for Yorkshire and Humber.
Viviana Archer-Todde, Community Cohesion Officer and organiser of the event, says:
"In these troubling economic times it is of great importance to reiterate the message that hate and resentment can only lead to greater hate and resentment and great tragedies. We have not learnt from the past so these annual events are reminders that people are still being murdered now because of political or economic turmoil in different countries."
Speakers include:
Iby Knill - Holocaust Survivor
Eugene Black - Holocaust Survivor
Kongosi Mussanzi - Survivor from the Congo
Roben Mutwira - Survivor from Zimbabwe
Rudi Leavor - Holocaust Survivor and Chair of Bradford Synagogue
Crossley Heath School Wind Band
Calderdale Interfaith Council
O'Hooley & Tidow - Composers and performers of the album "Silent June" which is a MOJO Top 10 Folk Album of the Year 2010
Perspective of genocides from a young person
British Sign Language interpreters will be available throughout.
Untold Stories starts at 7pm at the Victoria Theatre, Halifax. Tickets are free and are available at the Victoria Theatre box office on 01422 351158.
See also