Trades week ahead including a Dead Belgian
Monday, 21 February 2011
With folk riding an unprecedented wave of popularity the Trades Club welcomes the Hut People who are gaining a reputation as one of the hottest acts to come out of the Yorkshire scene in a long while.

On Saturday February 26 this talented duo will taking their fans on a voyage across the globe performing a unique blend of home-grown tunes mixed with British, Nordic and European folk music, perfectly formed & embellished with a driving accordion and a mind-boggling array of exotic percussion.

Accordionist Sam Pirt is now well established within the folk circuit, also performing with Radio 2 Folk awards winners 422 as well as playing with Kathryn Tickell, Sharon Shannon, Jez Lowe, Brian Finnegan, Brian McNeill and the legendary Dubliners.

He's joined by world renowned percussionist Gary Hammond who has for the past 12 years recorded and toured with The Beautiful South. He has also worked with Nina Simone and many other groups in the world music family.

Together the Hut People perform an extensive and varied repertoire of accordion-based tunes, complimented with an exciting and unusual twist with the addition of multi-percussive styles and complex rhythms.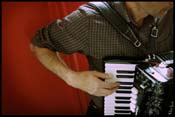 The weekend kicks off on Thursday February 24th with Dead Belgian's tribute to the great Jacques Brel who was an European superstar selling 25 million records and since his untimely death has influenced performers as varied as David Bowie, Nirvana, Dusty Springfield, Bellowhead and even Frank Sinatra.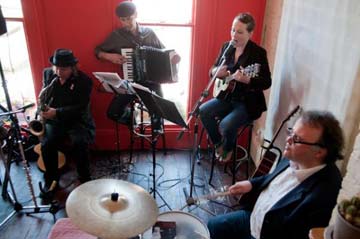 Liverpool based Dead Belgian celebrate in their own unique way a songwriter who penned the ultimate torch balled 'If You Go Away' which has been covered by Marlene Dietrich, Nina Simone and Sandie Shaw. He also wrote 'Le Moribond' which Terry Jacks turned into monster seventies MOR smash 'Seasons in the Sun' and versions of all these songs are in Dead Belgian's set.

Weeks of snow and rain means it's the perfect time for Chapter Four to bring a dash of the Caribbean sun to the club on Friday February 25 with the amazing Apache Hi-Fi providing the watts for a truly authentic rich reggae vibe.

The regular trio will joined by a host of selectors playing choice vinyl cuts and for early birds Auntie Nicki's vital Ital Stew will be bubbling and backfiring for those with a hearty appetite. There's also a chance to pick up funky reggae T-shirts, records and object d'art from the Irie Stores stall.

"Laura Marling's triumph at the Brits awards shows how just how hot folk is at the moment so we're delighted to welcome the Hut People who are developing a name as one of the most technically gifted duos around and they are rightly renowned for their brilliant live shows," says Trades Club spokesperson Paul Clarke.

"Dead Belgian does what it says on the tin celebrating the life of one of Europe's greatest songwriters and in total contrast the Chapter Four team bring some much needed musical sunshine to our dark valley."