Mundo madness at the Trades
Monday, 7 March 2011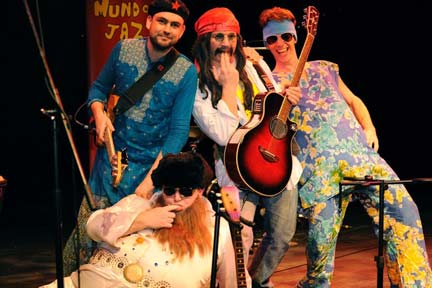 Spoof world music legend Mundo Jazz brings his mix of crass philosophising and catchy tunes to headline a Cabaret Heaven cowboy special at the Trades on Saturday.

Mundo Jazz is on a mission to teach us about peace, the environment and love, but sadly he knows nothing about anything so his subtle satire of pompous rock stars makes him the perfect act to top a packed bill.
Joining the posse are the Last Chance Saloon Band who are a storming dance combo playing hillbilly tunes with attitude from 'Man of Constant Sorrow' to a honky tonk take on 'YMCA'. Prairie punters can also expect to be entertained by a cowboy conjurer, the poetry posse and a chance to get quick on the draw in a shoot out with a difference.


The weekend kicks off with Steve Tilston's Trades Roots featuring up and coming folk singer Ewan McLennan who has been making headlines over the last year performing at festivals, clubs and concert halls across the country.
Ewan's music combines traditional music from around Britain and beyond, with a particular focus on the music of Scotland where he was brought up. His live set is a unique and compelling mix of traditional songs running parallel to his own earthy, self-penned songs.
BBC Radio 2's Mike Harding said 'Ewan sings beautifully, with great sincerity, great empathy, he's terrific' and his classical-influenced folk guitar playing has been described as 'stunning'. This is the last Trades Roots for this season as Steve Tilston will be taking a well earned break but will return later in the year.
There is a rare Tuesday gig at the club next week as hotly tipped Leeds four piece Japanese Fighting Fish make their first visit to Hebden Bridge.
They come with a fiercesome live reputation playing a unique and refreshing style of rock music blended with afro beat/Cuban grooves driven by melodic roaring guitars and beautifully delivered vocal harmonies.
"Mundo Jazz was such a big hit when supporting Arthur Smith at the Picture House we just had to have him back and he is a perfect headliner for Cabaret Heaven's comedy cowboy night," says Trades club Spokesperson Paul Clarke.
"The club is grateful to Steve Tilston for the work he has put in on Trades Roots and although he is taking a break he is going out on a high with the wonderfully talented Ewan McLennan.
"Japanese Fighting Fish have been winning rave reviews for their high octane live show and this may be your last chance to see them in such an intimate venue like the Trades."
Watch/Listen now