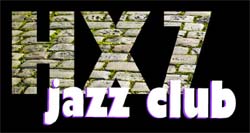 Snake Davis
Hebden Bridge's wonderful HX7 Jazz Club has been putting on great gigs for the last 15 months, and the next one on March 24th promises to be the funkiest yet when top British jazz soul saxophonist Snake Davis appears with his band to perform material from his 8 CDs and especially from his current live album.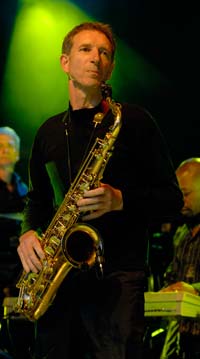 Snake, the "sax man", is well established as one of the UK's leading saxophonists. He is in demand from the biggest names on the British popular music scene, as well as from visiting artists from overseas. He is widely known for his solos on tracks such as Lisa Stansfield's "Change", M-Peoples "Search For A Hero" and "Moving On Up" and Take That's "A Million Love Songs". He has played and recorded with artists ranging from James Brown to Paul McCartney, Eurythmics to Amy Winehouse ? having recorded more than 400 tracks in recent years for over 60 artists, and played live with dozens more.
One of the most in-demand performers across the world, Snake is a virtuoso on the entire saxophone family, as well as on flutes, whistles and the ancient Japanese wind instrument, the shakuhachi. A highly talented player, he is also a musical director for Heather Small and M-People, a writer, arranger and bandleader, and sought after for his work in education.
Snake's quartet, which also features Paul Birchall on keyboards alongside drummer Bryan Hargreaves and bassist Neil Fairclough, will be playing some old favourites as well as music from the new album "Live". The group had been planning a live album for some time but no one could have predicted how poignant a record it would turn out to be, having been recorded on the day Snake's father died. On the inside cover, Snake describes his emotions playing music on that day, but it is in his unique and heartfelt playing that one can truly feel them. A combination of self-penned numbers, jazz standards such as "Lover Man", soul classic "Betcha By Golly Wow" and John Lennon's "Imagine", this is an album that is happy, sad, optimistic, wistful and beautiful all at the same time. It is a rare document of a musician on top of his game, unafraid to wear his emotions firmly on his sleeve.
Audiences are used to an entertaining, uplifting musical treat and they certainly won't be disappointed with this superb quartet. As always, Snake's love of soul music comes through in his playing as well as jazz, r+b, funk and world music. But it's the perfect expressive lyricism of his playing that makes him stand out as one of the all-time greats: he can make his instrument sing with all the power variety and emotion of the human voice (Time Out magazine says "Snake Davis has one of the most passionate sax styles and simple bluesy approaches a-la-Sanborn heard in these isles for a while" which sums it up pretty well).
"You don't see it very often at jazz gigs, but I think there'll be dancing in the aisles at this one" said HX7 Jazz organizer Dave Nelson. "Snake Davis has always been really popular at the Trades Club, and he has played to many a packed house there over the years. I'd advise people to get there early if they want a seat!"
HX7 Jazz takes place monthly on a Thursday at the Trades Club in Holme Street, Hebden Bridge. Appearing on April 28 is ex Loose Tubes sax player Rachel Musson performing with her excellent quintet "Skein", and on May 26 there's a definite Continental feel to the jazz as the Tommaso Starace Quartet passes by as part of its extensive UK tour.
More information is available at the website www.hx7jazz.com, where you can also sign up to be kept informed of developments as they happen. In line with other Trades Club events, doors now open at 7.30pm with live music starting at 8.pm, and the headline band starting at 8.30. As an added bonus the venue provides excellent value curries from early evening. Phone the Trades Club on 845265 to book a meal or to ring to book advance tickets which are ?12, and ?9 for concessions and members.