Handmade Parade ideas - latest
Which will come first - the giant chicken or the eggs?
Friday, 18 March 2011
Gremlin greengrocers could be tucking into giant pies surrounded by spring-loaded blackbirds at this year's Hebden Bridge Handmade Parade.

A public ideas get-together this week came up with a madcap array of themes, costumes, giant puppets and potty performances. Up for discussion were lots of ideas popped into the suggestions box in the library over the last month and people also had the chance to dream up new possibilities.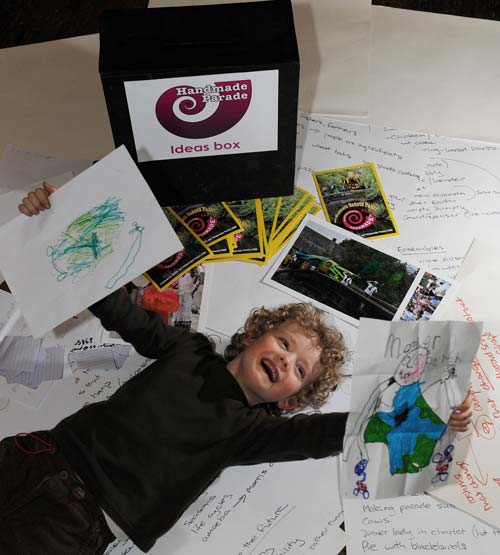 Seasons and cycles of life, transformation and energy, planets and even alien morris dancing troupes were among the suggestions, but a clear winner was the theme of food.

Nursery rhymes and fairy stories with a foody slant, a junk food section, picnics, parties, rude chefs, pancake tossers and even a tofu cow are some of the ideas the parade section leaders will now work on.

This year's Handmade Parade is on Saturday, June 11 from 2pm with a grand finale and picnic in the park from 3pm. The open workshops start on May 24 with sessions throughout the week for people to make costumes and carryable or wearable art. There will also be stilt-walking and samba drumming sessions. All materials are provided and there is help on hand from professional artists for those who need a bit of guidance.

In 2010, around 400 people took part in the workshops and more than 650 danced through the streets in the parade.

New this year is Parade School, which runs for five days from May 18. It's open to artists wanting to develop new skills and to anyone interested in making parade art in a friendly atmosphere. The cost of £300 for the five days covers classes and making sessions for large structures using withy; clay-sculpted papier-mach? giant puppets and remarkable cardboard constructions. Participants can learn to stilt-walk, operate a giant puppet, learn the tricks of successful parade choreography and more.

For more details about the parade go to www.hebdenbridgeparade.org.

See also
HebWeb News - Feb-March 2011
Hebden Bridge Handmade Parade 2010 - photos
Hebden Bridge Handmade Parade 2009 - photos