University of the Third Age
- March meeting report
Monday, 28 March 2011
The topic of the talk given at the March General Meeting of Todmorden U3A seemed tailor-made for it's audience and of interest to their age group alone. In fact, it soon became clear that the speaker, Professor Stephen McNair, who entitled his talk "Growing Old in the Twenty-First Century" had lots to say relevant to all ages.
Stephen, now semi-retired, has spent most of his career in adult, further and higher education and has advised a number of public bodies, including government at the highest level. His research interests focus on the older workforce, and the relationship between learning and work.
Stephen started by reminding his audience that the UK is an ageing society, due mainly to improvements in medicine and pointed out that over the years, every estimate made of life expectancy has been too low. In 1950, male life expectancy at 65 was 10 years; now the figure is 20 and still rising. In 30 years from now half the adult population will be aged 65 and above. However, this is not evenly distributed. In London, life expectancy is 7 years longer than in the North. In a single county, Essex, there is a 7 year gap between the highest and the lowest life expectancy figures.
He posed a number of questions, one arising from people living longer was: what does retirement mean when people retire halfway through their lives?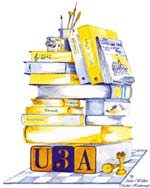 The University of the Third Age takes its name from the three ages that human lives are said to comprise.The First Age being the years of childhood, adolescence and education (18/21). The Second Age is that of establishing a career and raising children (60/65). The Third Age is retirement and old age.
Stephen drew attention to two aspects of this demarcation from two points of view and which has led him to propose a new definition of what is termed our lifecourse. Firstly in the field of work. Those workers in the second age are more highly stressed and are less effective than older workers because of the strains of both raising children and establishing a career. Yet if companies have to shed workers, it is usually the older and more experienced workers - now at their best and who often wish to continue working - who lose their jobs. (There are exceptions to this practice. Marks and Spencer employ older people out of necessity due to a lack of suitable younger applicants. B&Q by contrast, are motivated by an appreciation of the advantages of employing older people.)
Secondly, he said that because some young men don't reach maturity until twenty-five, this should be the demarcation of the end of the First Age. The Second Age, he believes, should be from twenty-six to fifty. Some people retire or semi-retire at fifty, or retire from their principal job and then work in another field before retiring completely. The Third Age Stephen proposes, should then go from fifty until age seventy-five. A significant number at this latter age will continue to enjoy good health and vigour for some years to come. At around seventy-five, others' health will start to decline and old age as we are accustomed to regarding it, will set in.
Stephen believes it is more realistic to mark seventy-five as the start of The Fourth Age. He has put it to policy makers that these demarcations better reflect the reality of people's lives.
Stephen looked at what older people need to do to maintain their well-being and ability to pursue an active life. The following have been identified:
Connect with others
Be active in some form
Take notice of the world around
Keep learning
Give to others
The above have implications for policy makers.
Personal finance is a challenge, Stephen said. Most people don't get a pension equivalent to the average wage. Disability and depression incidences rise as people get older. At present, there are 2 workers for every dependent. In 40 years, the ratio will be one-to-one. The options arising from this will be poorer pensions, higher taxes; more savings; late retirement. Stephen gave the following figures to illustrate this in another way: those born between 1946 and the early 60s are a very fortunate generation. By age 65 they will have received £223,000 more than they have paid in to the state. Those born now will have paid in £155,000 more than they will get out.
Among the recommendations Stephen has put forward are; abolition of the compulsory retirement age (already the subject of a government consultation paper); the simplification of the state pension with a flat rate of £140; and the linking of health and social services with a focus on prevention. The availability of a handyperson to change a light bulb for an older person is far more cost effective than the treatment of injuries sustained by a fall. Likewise, teaching a newly-breaved man to cook is more cost-effective that moving him into residential care.
Improving things for older people will improve things for everyone. Stephen cited the case of refreshment trolleys on board trains. This became possible when ramps for wheelchair users were introduced. Thus an improvement for a minority opened the way for a new service which every rail user could avail themselves if they wished.
Stephen covered many more aspects of life as it will be for an increasing proportion of our population in what was a fascinating and thought-provoking talk. He finished by stating that there needs to be a focus on well-being rather than economic growth before asking
what U3A might do and suggested that it could continue to support the five ways of well-being and to continue to contribute to the debate about policy.
The Short Talk was given by Andrew Bibby on the Community Asset Transfer that has taken place in Hebden Bridge. He suggested that the experience of the transfer of the Town Hall there and the projected transfer of the Picture House Cinema into the democratic control of Hebden Bridge residents might be a useful model for Todmorden residents to consider, as a means of protecting treasured buildings in the town. Calderdale Council does not have the money to spend on either of these buildings in Hebden Bridge but once they are out of local authority control, residents will have access to funds not available to the council.
The February general meeting of Todmorden U3A
Those attending the February general meeting of Todmorden U3A were treated to a slide show of member Tony Green's holiday snaps. No, I jest. It was an illustrated talk entitled: The Pilgrimage to Santiago - Experiences of a Pilgrim and Hostel Warden.
Tony started by explaining that St James the Great - the Apostle - is the patron saint of Spain and legend relates that he landed in the north-west of Spain and started the conversion of that country to Christianity. The pilgrimage to Santiago de Compostela in what is now Galicia, owes its origin to the discovery of the tomb of the apostle in the 9th century. It was probably at its height in the 12th century, when it rivalled Rome and Jerusalem as goals of Christian pilgrimage. Though it declined thereafter, it was never entirely forgotten and in recent years it has seen a renewed surge of interest.
There are a number of various routes comprising the Camino de Santiago, although the best known camino, or way, is the 800km route from Roncesvalles, in the Pyrenees, the Camino Franc?s. As well as other starting points in Spain and Portugal, some start in France, Germany and further afield.
To walk the camino, Tony first needed a "passport", which gets stamped at every pilgrims' hostel, called refugios or albergues, a pilgrim stays at. On reaching Santiago, this enables the pilgrim to get a certificate, verifying that he or she has completed the walk. Many of these hostels are run by the local municipalities. Some are modern, some ancient; and can range in size from a 150-bed dormitory to a room for two in a private house. One has a room expressly for heavy snorers and earplugs are available at every pharmacy along the way. Many are free to stay in, although a donation is requested. Cyclists may ride the camino but have to do twice the distance in order to get a certificate. Cyclists are always the last to be admitted to the hostels.
Tony walked the French Route of the Camino de Santiago from St Jean Pied de Porte in France to Santiago from 1 April to 7 May 2005, a distance of about 500 miles. Tony, a fluent Spanish speaker, was hooked, and as well as wanting to walk again, he decided to become a volunteer hospitalero as the hostel wardens are known, and the photos he showed his audience were a mix of his time both walking and as a warden. It's an early start for the wardens, up between 5.30 and 6, laying out breakfast: coffee, hot chocolate, milk, bread and jam. Most walkers are out early, to start during the cooler hours of the morning. Once the walkers have left, the hospitaleros can attend to their own breakfast. Then they get down to cleaning and preparing for the next lot of walkers who arrive from 1 o'clock onwards when the hostel re-opens.
Tony's photos illustrated both the variety of the landscape and the people he encountered and it was the latter, he said, that made his experiences on the two occasions he was a warden so memorable. Both the walkers and the Spanish people, whom he rates as among the friendliest he has met. They were also the source of some interesting and amusing stories that Tony had to tell.
Some of the photos he showed his audience may be seen on his blog, along with accounts of his times in Spain. caminowarden.blogspot.com. Other information about walking the camino may be found on the website of The Confraternity of Saint James, which is the organisation in this country that issues the credencial or passport. www.csj.org.uk
The short talk was given by Malcolm Heywood, giving feedback on the survey carried out by Malcolm and his wife, Freda, a year or so ago comparing the leisure activities of today's 14 year olds with those of U3A members and other older people, when they were 14. Malcolm gave a taste of the contents, revealing interesting differences between the sexes as well as the generations. The survey forms part of a book which is about to be published by Malcolm and his wife Freda, called "Cricket and Leisure in 20th Century Todmorden". The book will be launched on Friday, 4th March at Todmorden Cricket Club at 4.00. All are welcome.
The January general meeting of Todmorden U3A
The January Todmorden U3A general meeting heard yet another of their fellow members give a talk. The title, "Travels with my Diary" did not itself give any indication of the sombre nature of its content. The diary in question was started at Kristallnacht, the night of 9 - 10 November 1938, when Jewish businesses and homes in towns and villages throughout Germany were attacked and smashed. The glass from the broken shop windows which littered the streets giving rise to that name.
The diary's author, Thea Hurst, was born in Leipzig and was 7 years old when Hitler came to power in 1933. The city is an historic and cultural centre. It had produced the first printed newspaper in Europe, it was a centre of trade between eastern and western Europe and holds the longest existing trade fair in Europe. Its Jewish population had been there since the 12th century and in 1939 they comprised 50,000 of the city's population. By 1945, there were 13. Once Hitler came to power, life began to change markedly for Thea and all of Germany's Jewish population. All sorts of retrictions were put on Jews. In one manifestation of the growing anti-semitism, Thea found herself uninvited to the birthday parties of her school classmates. Her father then placed her in a Jewish school.
By 1938, it was clear that there was no future for Jews in Germany and moreover, many countries had closed their doors to Jews. November of that year was when Thea considered her childhood to have ended. School friends had left on the kindertransport and her father had fled to Warsaw, seen as the way to secure visas for the family to escape to the USA. Some Latin American countries were also admitting Jews but escape was made very difficult by the fact that Jewish property and money was confiscated by the Nazis, so finding the means to pay for passage was a real challenge and what belongings people were left with had to be sold. Thea's brother had already reached London when she followed her father to Warsaw. Permission to got the UK was received and Thea and her mother left, expecting her father to follow. He did not, and she never saw her father again.
Thea's diary was with her wherever she went, and in it she noted her thoughts, feelings, dreams, joys and fears. It was completely in German up until 1943, when she started writing some in English. From 1944, it was all in English. In 1947, Thea stopped writing her diary. British citizenship had been offered and she tried to forget everything in the past and it was left untouched until1983. In that year, Thea was living in Manchester and the local Polytechnic was doing a survey of the ethnic groups living in the city. Thea was interviewed a part of that process, her diary being unearthed for the telling of her story.
In 1999, the Lord Mayor of Leizig invited Thea to visit the city as part of a gesture to all those expelled during the Nazi regime. Extracts from her diary form part of a permanent exhibition of Jewish life in Lepzig through the ages. At that time, there were no sources for the Nazi period, so Thea's diary helped fill that gap with two entries. The first relating to her leaving Leipzig for Warsaw. The second illustrates how reduced Jews were by the confiscation of money and property.
Thea came from an upper middle-class background but in Warsaw she could not afford a stamp to send a letter to a friend.
Subsequently, the city's education authority contacted Thea to ask if they could use her diary as material for schools. Thea now goes every year to Leipzig to speak to school students and adults. The young people told her it was difficut to get older generations to talk about the Nazi period, although this is now changing.
Both Thea and her diary survived being bombed in the Blitz and in 2003, her story was dramatised on BBC Radio 4. Recently, it was reported that anti-semitism is on the rise in every country were Jews live, reason enough that Thea's own story, as well as the wider story of the horrors of the Holocaust, continue to be told.
See also: