Women of Blues
Sunday, 3 April 2011
The Hebden Bridge Blues Festival is proving that the Blues is still with us and bringing it bang up to date. Celebrating the contribution of women to the scene is our special 'Women of Blues' night, which brings together some of the best female blues artists in Britain today.
Women have always been a part of the Blues scene, long before it was even given the name. Gertrude 'Ma' Rainey may really have been the 'Mother of the Blues, after hearing a song about love lost, and incorporating it into her stage act in around 1902. When asked what kind of music it was, in a moment of inspiration she replied "It's the Blues".
In 1920, Marnie Smith recorded Crazy Blues for Okeh Records, which sold over a million copies in less than a year, and over two million by 1922. It was a breakthrough for women in the music industry, not least because the singer was black. Most record companies already sold what were known as 'race records', to the thousands of black American economic migrants flooding into the northern USA. Marnie Smith's success led to other record labels looking for African-American singers of their own. It opened doors to people of colour that would never again be closed. Blues laid the roots for most popular music we know today and female artists have been right there in that story.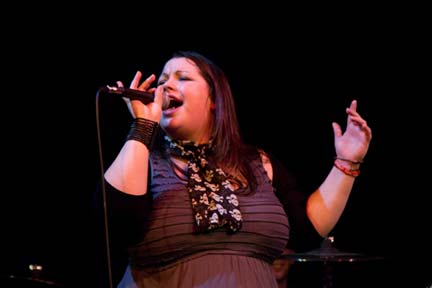 Our first 'Woman of Blues' lists at least two female legends as the inspiration behind her own powerful and gutsy performances. Jenna Hooson, singer and self confessed 'front man' of the four piece Hooson, was blown away by the performances of Aretha Franklin. "She demanded the attention of her audience, just by standing on the stage. Her voice was captivating. She became an art form". Janis Joplin is among Jenna's other major influences. "Neither of them were what you would call typical beauties, but they paved the way for talent to overpower the image". Above all, Jenna just loves what she does, music and performing for people. "The Blues circuit is opening up to new talent, and going through something of a revival at the moment".
The second of our 'Women of Blues', Clare Free, would have to agree. "I'd like to see Blues become less stuck in a rut, and it certainly seems to be happening. There are some powerful and interesting writers on the Blues scene right now". Clare's influences include Bonnie Raitt, Buddy Guy, Luther Allison and Albert Collins, who was the first blues artist to really get under her skin. In particular she likes the humour of his lyrics, and his brand of 'funky blues'. He is also the artist she would most like to have 'jammed' with. Clare released the critically acclaimed album "Be Who You Are" in 2010, and with a second album on its way, she is living her dream. "As long as I give my music 100%, I will be fulfilling my dream".
The third of our artists, and the headline act of the evening, is positive proof that Blues is not just for old men. Chantel McGregor first picked up a guitar at the age of three, and is currently working on her first album, at the still tender age of 21. She has progressed from those early beginnings, now owning around 43 guitars, and completing a first class honours degree in music from the prestigious Leeds College of Music in 2009. "There are obstacles for women in the music industry, certainly. There are stereotypes in how a woman should look and whether a woman should play lead in a band". She is also confused by some people attitudes to what the Blues is. "What is the Blues, really? The Blues to me is all about emotion, how it makes you feel, a positive feeling".
Chantel's influences vary from Fleetwood Mac to Lady Ga Ga, though her favourite musician- and one she would most like to perform with - is Ritchie Kotzen. But she is herself among the young musicians of her generation now defining the new sound of the Blues. "I'm really honoured to be playing at the festival. I'm also still a bit surprised by it all. As a local girl, I love Hebden Bridge, and am really excited about being a part of it all."
All our ladies agree on one thing. Is it tough making your way in the music industry?. Absolutely. But doors are opening, and women have always played a major part in the music industry, particularly the Blues. Real talent shines through. And real talent is something all of these ladies have.
Our 'Women of Blues' will be performing at the Hebden Bridge Blues Festival on 29th May 2011, in the historical grandeur of the Picture House, first opened in 1929. By all accounts it will be a sell-out, and not to be missed.

See also
HebWeb News - Hebden Bridge Blues Festival