Kuschty and more at the Trades
Thursday, 14 April 2011
Roots rocker Des Horsfall brings his tribute to Ronnie Lane to the Trades on Friday with proceeds going to fight multiple sclerosis which claimed the Faces legend's life.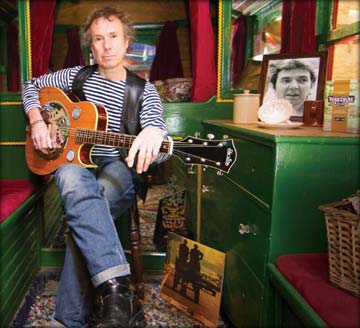 Des and his band Kuschty Rye recorded their new album 'A Good Gentleman's Tonic' as an elegy to Lane's critically acclaimed Slim Chance period creating a laid back 1970's quality to the record.
Adding real authenticity to the album Des recruited original Slim Chance members Benny Gallagher, Charlie Hart and Steve Simpson who all played on his radical reworking of Ronnie's biggest solo hit 'The Poacher.'
On Saturday it's time to dig out your tweeds as the Country Club crew are back for a twisted tribute to Emmerdale and life on the farm. As always the team will decking out the venue in their unique Baroque & Roll and Country Club style and DJs Annie, Fraser, Lindsey and Peaches from Trailer Trash will be spinning sounds from the countryside.
Sunday sees the return of Hole Note with special guest Richard Kitson plugging his new album 'Home and Dry'. A mark of Richard's quality as an acoustic performer is somebody once said of his inventive picking style that 'when I grow up I want to play like him.'
Hole Note is a natural meeting place for musicians and performers who like to feel at home with both the experienced and those just starting out seeing it as a safe place to play among friends.
"Ronnie Lane raised hell with Rod Stewart in the Faces before he was diagnosed with multiple sclerosis so it is fitting Des Horsfall is playing this gig to raise money to fight that terrible condition," Trades Club spokesperson Paul Clarke told the Hebden Bridge Web.
"Country Club has become one of our most successful club nights because they book some of the best DJs around but they also create a whole new world at the club with their inventive interior design."