NEWLY REBUILT AND EXTENDED SKATEPARK REOPENS
Tuesday, 3 May 2011
Although there is some final landscaping to be carried out, Calder Holmes Park this week saw the completion of the project to extend the old skatepark, a facility which has been incredibly successful since it was originally opened some years ago.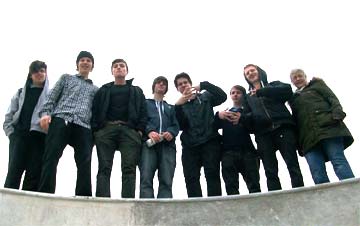 A photo diary of the ongoing construction of the new skatepark can be seen by visiting the Facebook page Extending Hebden Skatepark and there is a website set up by the skatepark volunteers themselves.
Many thanks go out to Jason Elliott for donating the website and Joanna Halstead who volunteers her time freely to design, maintain and update it. Other thanks must also go to Hebden Royd and Calderdale Councils, the Community Foundation for Calderdale, Sport England and Groundworks UK - Changing Spaces for providing the funding. Jason Boom, HRTC Town Clerk and Councillor Lesley Jones also deserve special mention for their work, support and commitment over the last couple of years.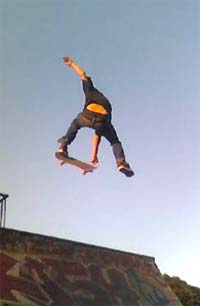 In terms of the skatepark project itself, it is incredible to see years of hard work come together in the end. A lot of young people in Hebden Bridge have been involved in some way throughout the project over a long period of time and they should be praised for their efforts and involvements.
I started on this project to help the young people of Hebden Bridge because they all seemed to be unfairly tarnished with the same brush. Whilst it is easy for a lot of people to complain about our youth culture, I wasn't seeing enough being done by people to try and help.

I think it's important that the message goes out to all young people, not just skaters, that we have tried to provide somewhere for you to call your own space and that we, together with you young people, have worked incredibly hard to get to this stage. Everything that has been achieved, such as the new skatepark and the Fair For Youth event, has been achieved by volunteers, who receive no pay and no rewards for their actions. We are a group of people who are trying to combat the negative perceptions surrounding our young people and give them the time and respect that the majority of them actually deserve.
Hebden Bridge now has a skatepark that any town or city would be proud to have and it's been achieved with the help and commitment of our young people. This is something that should be celebrated
After some consideration and planning, the decision was made to coincide the official launch event with this year's Fair For Youth, which will be held on Saturday May 21st on Calder Holmes Park, Hebden Bridge, and which will run from 1:00pm to 7:00pm. The event is free to enter and all the activities and workshops will be free to take part in. Any organisations or volunteers who wish to get involved or offer any suggestions or advice are encouraged to attend meetings which are held at the Branching Out base on Bridge each Thursday at 7:30pm or contact either Lesley Jones or John Gale. Alternatively you can join one of the Facebook groups "Extending Hebden Skatepark" or "Fair for Youth ? Skatepark Launch Event" and offer your help, advice or services on there.
The Friends of Calder Holmes Park (FOCHP) are now calling out to local youngsters and adults to come to the weekly meetings and to help in any way they can with this year's event. With the list of planned activities already including a skate competition, graffiti workshop, boxing and martial arts sessions, inflatable 5 a side football, breakdancing, Rap battles, live music from local young band and local young DJ's and a whole other host of free activities, the FOCHP are desperate for volunteers to help bring all of these things together to form one huge day of free and easily accessible opportunities for Hebden Bridge's young people to enjoy themselves and to celebrate the successes they have achieved.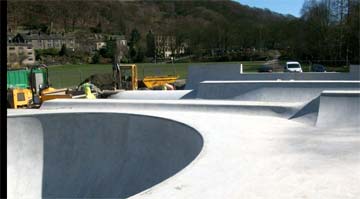 The completion of the project to extend the skatepark is obviously a huge success and we are immensely proud of our achievements. However we have a lot of work to do now to bring the launch party together and we are desperate for volunteers who can act as staff on the day and help us run the event.
Invitations have gone out to young peoples' organisations to attend the event and showcase what they do to the hundreds of people who will be attending on the day. It is the responsibility of these organisations to reach out to the young people in Hebden Royd and they should be taking this opportunity to do that. We are providing a platform for every youth organisation out there to connect with the youth directly and we hope that they all take this opportunity to have such a large audience of young people.
Previously, on the HebWeb
HebWeb News: £50,000 more for Skatepark: construction could start early 2011 (Dec 2010)
HebWeb News: Skate park improvements a step nearer (Aug 2010)
See also
FaceBook: Extending Hebden Skatepark