Wonder Stuff
Friday, 13 May 2011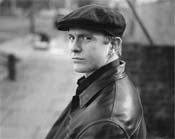 Chart topping Miles Hunt plays the Trades Club on Wednesday with a hits packed set from his long career as the voice of The Wonder Stuff.
Miles hit Number One in the nineties with a bizarre cover of Dizzy in tandem with daft funnyman Vic Reeves leading to a wave of hit singles and stadium dates with the Wonder Stuff.
Since then Miles has become a festival favorite revisiting songs from hit albums like 'Welcome to the Cheap Seats' and material from his well received solo albums.
Miles is touring his new album 'Catching More Than We Miss' and is backed by the Wonder Stuff's Erica Nockalls on violin.
"We've wanted to book Miles for ages as he has a huge catalogue of great pop hits and he is a consummate live performer after ears of playing massive venues," says Trades Club spokesperson Paul Clarke.