Thursday, 12 May 2011
2011 Wainsgate concerts kick off with Mad Agnes
The 2011 Concert season at Wainsgate Chapel kicks off on Sunday May 22nd with a visit from Connecticut-based acoustic music specialists Mad Agnes. Their music defies category, taking in folk, rootsy Americana and even elements of classical music. From simple a cappella to breathtaking instrumentation (guitars, bass, mandolin, keyboard), this genre-bending group of superb musicians will delight, incite, and definitely excite the listener in equal measure.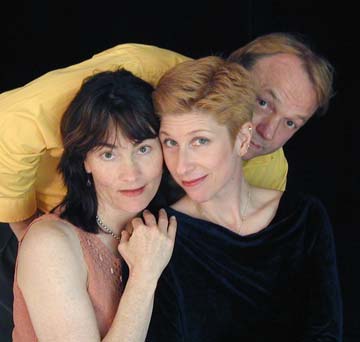 The band consists of Margo Hennebach, Adrienne Jones, and Mark Saunders who are (as a recent rave review put it): "Akin to the progressive-folk artists of yore, most notably Fairport Convention. The multi-faceted Mad Agnes thrives on story-telling and a traditional aesthetic steeped in classical motifs, intricate harmonies, and complex counterpoint."
Mad Agnes's performance offers an eclectic mix of contemporary singer-songwriter material infused with courageous harmonies, complex counterpoint and rich storytelling in a powerful live show. The intelligent and insightful lyrics, vocal intricacies and instrument prowess are just part of what makes this trio so much in demand.
"This kind of music works brilliantly in the clear acoustic of the Chapel," said concert organiser Dave Nelson, "and it's great to be able to start the season with such an exceptional band who will have travelled thousands of miles to get here. Fans of acoustic music will not want to miss this!"
The concert starts at 3pm and tickets (£8.00 and £6.00 concessions) are available on the door. The next performances at Wainsgate Chapel are part of the Hebden Bridge Arts Festival. On Sunday June 26th there's a double bill of contrasting choral music with Ars Nova Sacra from Budapest and the Madrigirls from Glasgow, then on July 10th that veritable wizard of the accordion Thom Hardaker performs alongside the equally gifted viola player Julia Koenig.
Wainsgate Chapel is on Wainsgate Lane, Old Town, Hebden Bridge HX7 8SU. Parking there is limited and reserved for disabled drivers. There are plenty of footpaths for those who'd like to walk from Hebden Bridge or there's an hourly bus service to Old Town Mill Lane (opposite Wainsgate Lane) where parking is also available. More information at about the venue and future events can be found at www.wainsgate.co.uk and at www.hbaf.co.uk