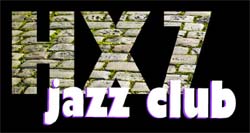 Tommaso Starace Quartet
Following a sold out performance at the Blue Note in Milan, alto saxophonist Tommaso Starace brings a new exciting all-star Quartet to the HX7 Jazz Club on Thursday May 26th. They will be promoting the band's latest CD 'Tommaso Starace Quartet - Blood & Champagne', and also performing other new compositions by Tommaso plus music by musicians such as pianist Michelle Petrucciani, film composer Ennio Morricone, and jazz composers Billy Strayhorn and Oscar Pettiford.
Born in Milan, Tommaso moved to the U.K. in 1994, graduating in style at Birmingham Conservatoire, then at the Guildhall with a Postgraduate Degree in jazz studies in 2000. Since then he has performed with some of the most respected jazz musicians including Billy Cobham, Kenny Wheeler, Stan Sulzmann, Jim Mullen, Paolo Pellegatti and Gianni Giudici. In 2004 he collaborated with Oscar-winning film composer Dario Marianelli ('Pride and Prejudice' and 'Atonement') and recorded music for 'This Little Life', a BBC drama for Channel Four. "...a distinctive new artist" John Fordham, Jazz UK
The Quartet also features three of the best musicians from London and Italy. On piano Michele Di Toro is a brilliant young player from Abruzzo who asserts himself as a fine European jazz musician inspired by the improvisation and language of Keith Jarrett, and gifted with an extraordinary musical sensitivity and technique. Influenced not only by jazz but also by African and Balkan rhythms, funk and rock music, drummer Chris Nicholls has performed with the likes of Jim Mullen, Martin Shaw, Laurence Cottle, and Jean Toussaint and is much in demand throughout the UK. Stepping in for the unavailable Laurence Cottle, double bass player Will Collier makes an immediate and welcome return visit to the HX7 Club, having performed here with Skein in April.
Tommaso's compositions are all about exploring and pushing boundaries, trying to create different moods by combining traditional and more contemporary harmony and focusing on a strong use of melody and groove with the additional use of odd time signatures. Composers and musicians from Maurice Ravel and Cannonball Adderley to Ennio Morricone, Joshua Redman and Stevie Wonder are a continuous inspiration for what he strives to achieve musically.
HX7 Jazz takes place monthly on a Thursday at the Trades Club in Holme Street, Hebden Bridge. June sees two outstanding HX7 gigs taking place as part of the Hebden Bridge Arts Festival. On June 25th trombone virtuoso Dennis Rollins returns to Hebden Bridge with his Velocity Trio, then on the 30th the extraordinary Brazilian singer Monica Vasconcelos brings her Vintage Brazil band featuring some great players from Uruguay, Brazil and the UK.
More information is available at www.hx7jazz.com, where you can also sign up to be kept informed of developments as they happen. Doors open at 7.30pm with live music starting at 8.pm, and the headline band starting at 8.30. As an added bonus the venue provides excellent value curries from early evening. Phone the Trades Club on 845265 to book a meal or to ring to book advance tickets which are £12, and £9 for concessions and members. Advance tickets for the June performances must be obtained from the Festival at www.hbaf.co.uk .