HANDMADE PARADE
Get ready to make some mouth-watering food art
Tuesday, 7 June 2011
Up to 700 people will be taking part in what organisers hope will be the biggest and best-ever Hebden Bridge Handmade Parade on Saturday (June 11).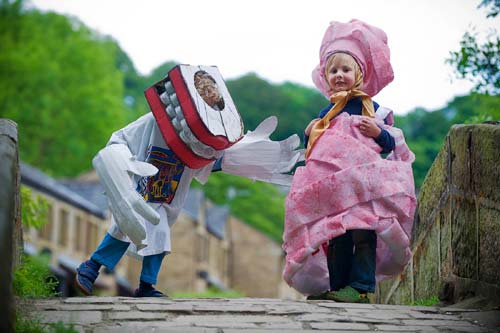 The eye-popping, toe-tapping parade will feature amazing giant puppets, dazzling artwork, great bands and crazy costumes ? and this year?s theme of The Fabulous Feast ensures there?ll be plenty to get your teeth into.
Among the creations on display will be an evil burger king, a huge hungry mouth, a giant pie complete with blackbirds, herb queens, a giant fishmonger, walking market stalls, a massive cow and stilting crows.
The parade starts at 2pm and thousands of people are expected to line the route along Victoria Road, Valley Road and Bridge Gate to Calder Holmes Park, where there will be a spectacular finale performance.
The newly formed Handmade Parade Street Band, led by Peadar Long, and the Handmade Parade Samba Band will be joined by joined by Blowjangles, Beatlife and Skiband, who will all be getting those dancing feet moving.
And the entertainment will start early this year with Hebden Bridge Flamenco kicking off the fun in Market Street at 12.30pm and heading to St George?s Square, where they will perform before taking their place in the parade.
Among those performing at the park will be Calder Valley Voices. Local food producers will be serving up their delights for the picnic and Incredible Edible and Calder Food Hub will also be spreading the word about their work.
This year?s parade has been produced on half the budget of last year?s, due to cuts to arts funding, but despite this the organisers are hoping to put on the biggest and best parade so far.
Children, teenagers and adults have been busy putting the finishing touches to their costumes at the open workshops in Victoria Road, Hebden Bridge.
If anyone hasn?t yet made a costume but would like to take part in the parade, the last open workshops are being held on Thursday, June 9 from 4pm to 6pm, and 7pm to 9pm (adults only). Those taking part in the parade are asked to be at the workshops at 1pm on the 11th. Organisers are encouraging those taking part or watching to walk or use public transport.
For more details about the parade go to www.handmadeparade.co.uk.