HANDMADE PARADE
The Fabulous Feast delights Hebden Bridge
Tuesday, 14 June 2011
'It just keeps getting bigger and better every year'. That was the verdict from many of the thousands of people who turned out to watch the Hebden Bridge Handmade Parade on Saturday.
Nearly 700 people took part in the parade and an estimated 5,000 lined the route to enjoy amazing giant puppets, dazzling artwork, a riot of colour and toe-tapping music.
The theme of this year's parade was The Fabulous Feast with an array of mouth-watering art and costumes. The parade was headed by singing dinner ladies who were followed by a host of sweets, doughnuts and junk food, some more healthy fruit, bees and plants, a crazy crowd of chickens, eggs, fish and market traders and a feast section which included cupcakes, lobsters and stilting waiters.
Amazing giant puppets wowed the crowds, including an enormous hungry mouth and an evil burger king created by lead artist Jonny Quick, herb queens by lead artist Alison Duddle, a giant chicken and fishmonger created by Andrew and Kathy Kim of Thingumajig Theatre and a king-sized lobster and mechanical pie complete with four and twenty blackbirds by section leader Dave Young.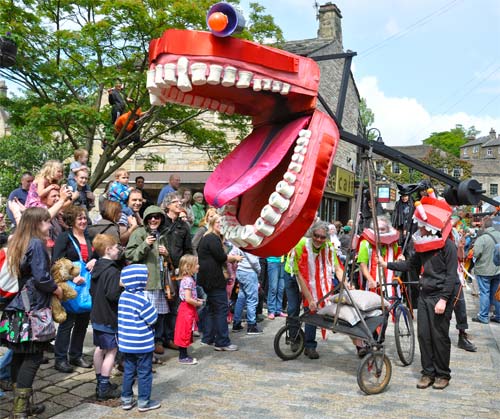 Those taking part in the parade had created their costumes and parade art at the community workshops held in the three weeks leading up to the parade or at outreach workshops for schools and community groups. They were joined by five bands, including Hebden Bridge's own Handmade Samba Band and the Handmade Street Band, which had been put together especially for the event.
Hebden Royd Mayor Coun. Scott Trickett and his family were among those taking part as the parade wound its way along Valley Road, through a packed St George's Square and along Bridge Gate.
The parade culminated in a finale performance in Calder Holmes Park, in which the hungry mouths, animals, rays of sunshine and a giant chicken took on the theme of sustainable food production.
The crowds were then treated to music by the parade bands, Calder Valley Voice and invited to participate in Sophia's Circle Dance and a drum circle led by Rhythmbridge.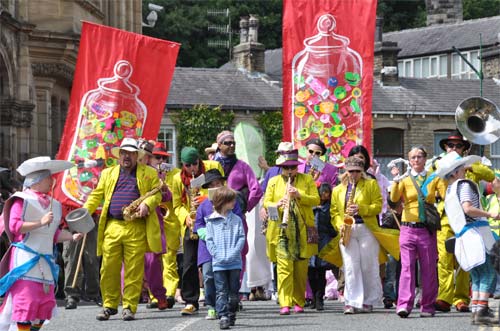 Parade co-ordinator Rebecca Dearden said: "What an amazing day! Dancing through the streets with a giant chicken, blackbird pie, cupcakes and stilting waiters just has to be the highlight of the year. It's just so great to see the faces of the people in the crowd ? either wreathed in smiles or with their mouths open in surprise and delight!
"The sun shone on Hebden, on everyone who's been having such great fun making things in the pre-parade workshops and on all the volunteers, local businesses, artists and more who helped make this the best-ever Handmade Parade.
"How can we possibly make this even more spectacular next year? We've got plans, so watch this space."
Julia Wilson, of Hebden Bridge, who took part with her family, said, "I loved the procession through St George's Square, the squeeze through the crowded streets was amazing. The artists deserve medals. It's an absolute privilege to be part of this parade."
More photos
See HebWeb Gallery of photos 2011
HebWeb Photos of Handmade Parade 2010
HebWeb Photos of Handmade Parade 2009
HebWeb Photos of Handmade Parade 2008
NB: If anyone has a recording of Saturday's Calendar report on the Parade would they please contact the organisers of the Handmade Parade via their website
See also
HebWeb Forum thread - June 2011
HebWeb News: Handmade Parade: Get ready to make some mouth-watering food art - 7 June 2011
HebWeb News: Handmade Parade: Get ready to make some mouth-watering food art - 24 May 2011
HebWeb News: Handmade Parade will be a 'Fabulous Feast'
HebWeb News: Which will come first - the giant chicken or the eggs? - March 2011
HebWeb News - Feb-March 2011