Tuesday, 21 June 2011
White Ribbon Campaign: Silent Witnesses add their message to violence prevention
Hebden Bridge based White Ribbon Campaign has benefited from the donation of 50 life size plywood figures bearing silent witness to the devastating effects of violence against women.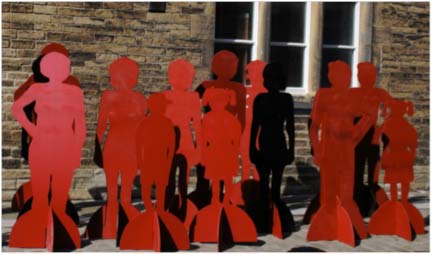 Silent Witnesses are displays of life-sized wooden figures of men, women and children who have been murdered in acts of violence. Each figure bears the victim's story and will be available for groups, organisations or local authorities to display on the streets, in parks, at universities and public venues to remind and warn of the consequences of disregarded violence against women. The White Ribbon Campaign UK is offering a set of these figures to help raise awareness and educate men to join in the campaign to prevent violence against women. WRC believes that the current level of violence in our society will never reduce unless we can raise awareness of the scale of the issue and its consequences.
All too often these acts of violence remain underground and the public seems unwilling to face up to the facts of violence against women in our society. An average of two women a week are murdered by their partner or ex-partner. The wooden models have been used in other countries with great effect and The Silent Witness programme is there to make people face up to the effects of violence against women in the UK.
The witnesses can be used in groups of two or three or en masse. Look out for them at local events, or borrow them for your own use.
Chris Green, Director of WRC UK, said "These silhouettes can be equally effective in drawing attention to the issue of violence against women. Because of this the White Ribbon Campaign is making them available to other organisations. When we had them outside our offices for this photo we attracted half a dozen enquiries from passers by in a matter of minutes."
See also