Pop visionary Julian Cope makes a rare trip to Yorkshire
Tuesday, 2nd August
Pop visionary Julian Cope makes a rare trip to Yorkshire playing classics from across his hit studded career at the Trades Club in Hebden Bridge on Friday 28 October.

Cope made his name as a twisted pop maestro with Liverpool's The Teardrop Explodes, making typically eccentric appearances on Top of the Pops performing top ten hits 'Reward' and the brass driven 'Treason.' Their debut album 'Kilimanjaro' was also a hit before they split in a haze of drugs and bitterness.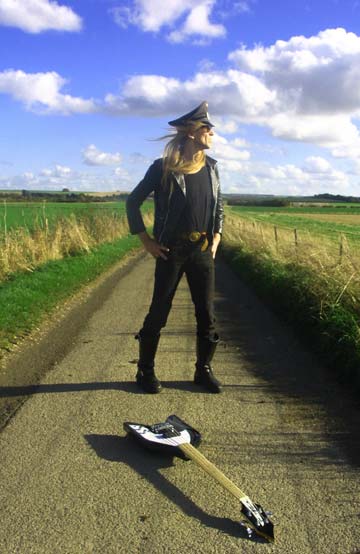 Written off as an 'acid casualty', Cope retreated to Warwickshire where he collected Dinky Toys before returning to the pop fray with the defiant 'World Shut Your Mouth'. The comeback didn't sell well and a tour culminated in an addled Julian ripping his stomach with a mike stand.

Just when it all seemed to be all over he bounced back with the critically acclaimed 'Fried' featuring Cope for some reason sheltering under a huge turtle shell, but he was dropped by his label before assembling a crack band to record ' Saint Julian'. This was a return to form and the charts with the bouncy 'World Shut Your Mouth' becoming his only top 20 solo single.

After that he released a series of critically acclaimed and wilfully personal albums including 'My Nation Underground', Skellington' and 'Peggy Suicide', which had the critics drooling and featured a contribution former Smiths drummer Mike Joyce.

Cope has deliberately turned away from the mainstream music scene exploring his life long love of psychedelia and Krautrock on '20 Mothers' and 'Jehovahkill' as well as a dizzying array of side projects.

This musical polymath is also the critically acclaimed author of 'Head On', recounting his days as one of the Crucial Three - with fellow hit makers Ian McCullough and Pete Wylie - and his career as a reluctant pop idol.

More recently, he spent eight years researching his tome 'The Modern Antiquarian' indulging his passion for stone circles and other ancient British monuments, which sold an amazing 50,000 copies winning him new respect as a historian of the offbeat.

"The Trades has been badgering one of the pop's greatest songwriters and eccentrics for months, and we're stunned he has finally caved in." says Trades Club Ents Manager Mal Campbell.

"His recent shows have featured classics from all points of what is without doubt one of the most challenging careers in British pop, and his contempt for what he says are 'greedheads' fits in perfectly with our values."

Tickets priced £19 are available from the Trades Club on 01422 845265, www.wegottickets.com or from Jumbo Records in Leeds and doors open at 8.30pm.