Tuesday, 9 August 2011
Blackshawhead Fete

People in Blackshawhead are putting finishing touches to their plans for the annual Village Fete, which this year takes place on Saturday 3th September.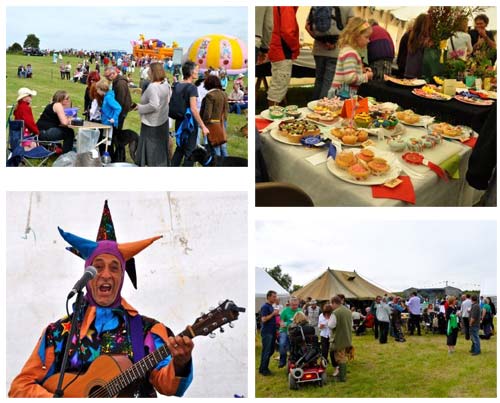 The fete programmes, which also contain the entry forms for the Produce Competition, were compiled recently by volunteer helpers, as our picture shows, and are being distributed to local homes. These are free and can also be picked up from the Tourist Information Office or May's Farm Shop at Colden. Produce entry forms can also be downloaded from the village website. There is no fixed entry charge for the fete, and entry is by donation at the gate, which as in previous years will be capably manned by members of the Hebden Bridge ATC.
The day starts at 10.30 am when entries can be submitted for the fiercely contested Produce Competition, where adults and children battle it out for awards. One new children's category this year is "I grew this" - which could be a flower, veg, herb or even weed, provided that they grew it themselves and it is still in the pot, with a winner's trophy sponsored by local gardening group BOGS.
The fete itself opens at 1.30pm with the start of the Blackshaw Head Fell Race, and a highlight at 2pm is a demonstration of training a working dog, by Wayne and Lynn Mitchell of Sunnyview Kennels.
As always, the organisers claim that this year's fete will be "bigger and better than ever", with stacks of stalls and sideshows, locally produced food, drink and music, doggie competitions, Punch and Judy and magic shows for the kids and lots more. The E bus to Blackshawhead leaves Hebden Bridge at 10 minutes past the hour, and stops at the gate.
See also