Monday, 22 August 2011
The Outside Track at Wainsgate
The Summer season of concerts at Wainsgate Chapel resumes on Sunday September 4th with a welcome return visit by acclaimed acoustic/ folk band The Outside Track.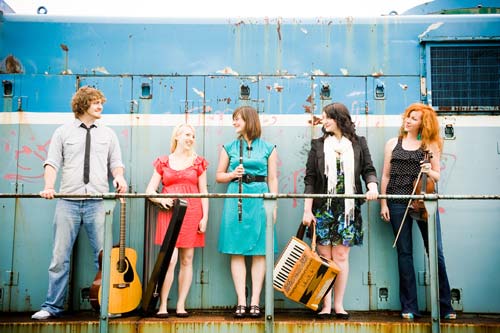 A stunning synthesis of virtuosity and energy, The Outside Track's marriage of Canadian, Scottish and Irish music and song has been rapturously received around the world. Hailing from Scotland, Ireland, Cape Breton and Vancouver, its five members are united by a love of traditional music and a commitment to creating new music on its foundation. Using fiddle, accordion, harp, guitar, flute, step-dance and vocals these five virtuosos blend boundless energy with unmistakable joie de vivre.
The line up comprises Canadian Traditional Singer of the Year nominee Norah Rendell (vocals, flute whistles), Mairi Rankin (fiddle, vocals, stepdance), Live Ireland winner and BBC Young Trad Finalist Ailie Robertson (harp), accordionist Fiona Black (BBC Fame Academy winner) and guitarist Cillian O'Dalaigh.
Each player within The Outside Track is a master of their chosen instrument with the band stacking up an impressive amount of international awards. This amount of talent alone would be enough to recommend the band but in this case the end result is so much greater than the sum of the parts. A recent review in Folkwords glowed..."Simply a consummate blend of skill, talent, flair and intensity. Best of the best! The perfect blend."
The band have enjoyed 5 years of extensive touring in the UK, Europe, Canada and the USA, including appearances at Celtic Connections, Celtic Colours, Whitby Festival , and Sidmouth International Folk Festival. They also performed to large and extremely appreciative audiences at the 2007 Hebden Bridge Arts Festival and at Wainsgate in 2009. "People who have seen The Outside Track here before will know just how superb a concert this will be," said Wainsgate organiser David Nelson. "and I think that anyone haven't yet heard them will discover they are in for an absolute treat!"
The concert will start at 3pm and should finish around 5pm. Tickets are available on the door at £8.00 and £6.00 (concessions), and refreshments will be available beforehand and during the interval. The final concert of 2011 will be on October 15th and features some highly unusual arrangements of well known classical works from The Classic Buskers.
Wainsgate Chapel is on Wainsgate Lane (Wadsworth, Hebden Bridge HX7 8SU). Parking there is very limited and reserved for disabled drivers. There are plenty of footpaths for those who'd like to walk from Hebden Bridge, or there's an hourly bus service to Old Town Mill Lane (opposite Wainsgate Lane) where there is plenty of parking space. For more information and news of forthcoming events visit www.wainsgate.co.uk or phone Dave Nelson on 01422 843315.