Thursday, 1 September 2011
Heritage Weekend at The Birchcliffe Centre
10th and 11th September 11am to 4.30pm
The Birchcliffe Centre, home of Pennine Horizons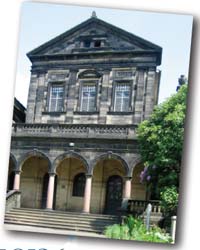 Standing on the Birchcliffe hillside, looking down on the town of Hebden Bridge, this imposing Grade II listed building is opening its doors over the Heritage Weekend. Trustees will be on hand to explain the exciting developments planned for the Birchcliffe Centre and provide tours of the building between 11.30am and 3.30pm on both days.
The Birchcliffe Centre is not only home to the Hebden Bridge Local History Society Library but also the newly formed Pennine Horizons Digital Archive.
During your visit you will also have an opportunity to view the Pennine Horizons Digital Archive.
Over the Heritage Weekend you will have the opportunity of seeing hundreds of photographs and discuss with the Trustees the future direction of this unique collection.
Through the efforts of volunteers, The Birchcliffe Centre is becoming a depository for much of our local heritage. Many photographic collections now form part of the Digital Archive including images from two successful, locally based magazines, Milltown Memories and Pennine Magazine; the Bill Marsden Collection and Alice Longstaff Gallery Collection.
In addition you will also be able hear extracts from some of the 500 oral history recordings, produced as a result of a project in the early 1980s, which have been recently digitised.
The Archive works closely with Calderdale Cultural Services at Bankfield Museum and many other local organisations. It is now working towards Accreditation with the West Yorkshire Archive Service. This is a great opportunity to see what is happening to your Heritage and to give us your views.
Please contact 07860 164422 for further details.
Free refreshments