Wednesday, 7 September 2011
Greenest Town in the Land: Bear v Bernard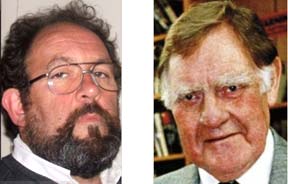 The Greenest Town in the Land project gathered momentum this week, as Sir Bernard Ingham launched a scathing attack on Hebden Bridge Transition Town, renewable energy, and the companies that supply it in this week's HB Times (1st Sept 2011). The grouchy ex press secretary to Margaret Thatcher, who regularly writes a column for the local newspaper, devoted his entire article of over a thousand words to pouring cold water on the group's latest initiative to cut greenhouse gas emissions.
The "critique" was written as a reposte to an article in the previous week's newspaper, in which Bear (secretary of HBTT) explained how switching to a renewable energy supplier could help combat climate change and support the building of new green generating infrastructure. In his article Sir Bernard suggested that ordinary folk were being "conned" by the Transition Town group and the green electricity suppliers into switching to renewable energy. The article also contained a string of inaccurate claims about renewable energy providers and the way they do business, and even referred to consumers who sign up as "deluded".
The article elicited a response from Juliet Davenport, founder and CEO of Good Energy, the UK's only 100% renewable electricity supplier. In it she gives a point by point rebuttal to each and every misleading assumption made by the veteran pro nuclear and anti renewables campaigner.
In it she explains that; "Whilst renewable electricity might have been slightly more expensive in the era of cheap and plentiful fossil fuels, the new reality facing us means that is no longer the case. Using renewable energy allows suppliers to keep bills down by harnessing the wealth of renewable resources we have in this country, rather than relying on fossil fuels from abroad".
She continues; "Nuclear power leaves us reliant on importing uranium from countries like Kazakhstan and Russia, and the complex nature of nuclear power plants make delivery problematic, unpredictable and expensive".
Good Energy's response goes on to discredit Sir Bernard's remaining attempts to rubbish the renewables industry, and concludes by saying; "Renewable energy is the only fuel source that is delivering for households and businesses around the UK, and we're delighted to partner Hebden Bridge's campaign to become the "Greenest Town In The Land".
You can find out more about the Greenest Town in the Land project, along with details of how to switch to a renewable energy supplier at Hebden Bridge Transition Town website