Thursday, 6 October 2011
Wainsgate Concert: The Classic Buskers
The highly acclaimed season of concerts at Wainsgate Chapel finishes on Saturday October 15th with a great show for music lovers of all ages. It features The Classic Buskers (all two of them) performing some of the greatest and most famous works of music on a variety of weird and wonderful instruments.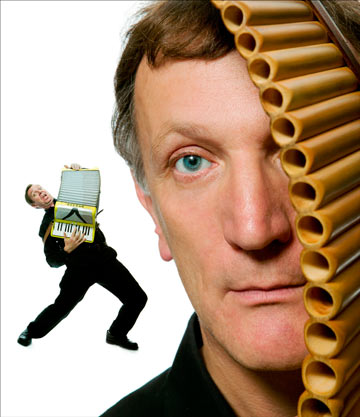 Their new show "MiniClassics" (also the title of their latest CD) will conclude with Tchaikovsky's magnificent tribute to the land that gave us pasta - his Caprice Italien. Before that, the audience will be treated to an enormous variety of music on highly original instruments, including works by Bach and overtures and arias by Offenbach, Mozart and Rossini. There will also be edited highlights from Bizet's Carmen, some beautiful Balkan folk music and an arrangement of Ravel's Bolero, which uses sonorities unknown even to that master of orchestration.
Instruments range from the world's smallest ocarina to a strangely huge cowhorn, as well as the normal selection of flutes, recorders, panpipes and those buzzy Renaissance things. In fact Michael Copley plays more than 40 woodwind instruments, which also include crumhorns, Pico Pipe and a rubber trout! He is accompanied by Ian Moore on a small but perfectly formed accordion, either pink or yellow. Their virtuosity on these instruments is staggering. It's a great show for those who know a little about classical music (listen out for an endless stream of musical jokes) or indeed for anybody who simply appreciates wit, and wants to be entertained.
The Buskers have performed in over 20 countries and in 15 languages, from London to Lyons, Paris to Potsdam, Toronto to Tokyo and Vienna to Valencia, and in venues ranging from Seoul's National Arts Centre to Salzburg's Mozarteum, London's Royal Albert Hall to Malaysia's Petronas Towers.
The Classic Buskers have a knack of communicating their passion for classical music in two of the best ways possible ? virtuosity and laughter. The audience comes away from a Buskers' concert on a high, having been both entertained and educated. That's the Classic Buskers' secret ? an ability to communicate their love of music: which is surely what performance is all about. "Technical virtuosity, combined with musical seriousness, humour and high entertainment are a perfect recipe ? the audience were delighted." said Ian Ritchie from the City of London Festival.
The concert will start at 3pm and should finish around 5pm. Tickets are available on the door at £8.00 and £6.00 (concessions), and refreshments will be available beforehand, and during the interval.
Wainsgate Chapel is on Wainsgate Lane (Wadsworth, Hebden Bridge HX7 8SU). Parking there is very limited and reserved for disabled drivers. There are plenty of footpaths for those who'd like to walk from Hebden Bridge, or there's an hourly bus service to Old Town Mill Lane (opposite Wainsgate Lane) where there is plenty of parking space. For more information and news of forthcoming events visit www.wainsgate.co.uk or phone Dave Nelson on 01422 843315.