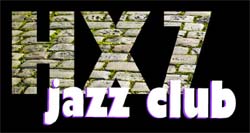 Robert Castelli's BOOM Quartet
Jazz musicians from the USA, Italy, Switzerland and New Zealand will be on stage at the Trades Club on October 27 when Hebden Bridge's HX7 Jazz Club pulls off yet another multi-national coup. This time it's drummer Robert Castelli fronting his all-star BOOM Quartet in what will surely be an explosive and exhilarating evening of exciting, hard-swinging and funky jazz. The BOOM Quartet is touring to promote their second album and has received continual praise in the USA and Canada for the band's emphasis on witty melodies, heavy swing and funk with attitude. The UK version of the band plays Robert's music with the same energy, verve and ultra-cohesive musicianship, performing to great acclaim at last year's Brecon Jazz Festival.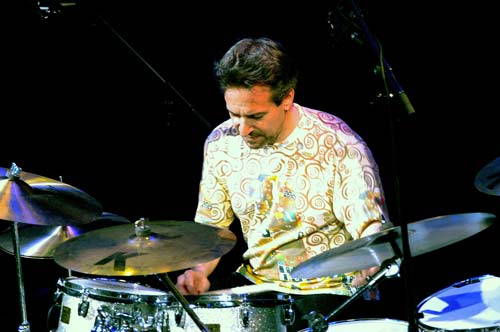 New York/Vienna-based drummer Robert Castelli's powerful playing has been written about in The New York Times Online, Cadence Magazine, & Drums & Perc, Germany, and his many recordings have equally been praised by critics & journalists in the USA and throughout Europe. Drawing on his years in New York, Castelli brings influences from jazz, funk, Latin, Brazilian, African & Eastern music together in a truly original way. Since his performances at London's Pizza Express in 2009 & other top UK Jazz venues - including a sell-out at the 606 club in 2010 - the response from critics & audiences alike has been overwhelming.
Castelli's eclectic approach to jazz is reflected in the musicians he works with. Bassist Davide Mantovanni moved from his native Italy to London in 1991, where he has developed a distinctive jazz/world-music style, having worked with some great musicians including Jim Mullen, Seckou Keita, Andy Sheppard, Gilad Atzmon and Baaba Maal. Swiss guitarist Nicolas Meier is one of the rising stars of a vibrant British jazz scene, his trademark sound is a mixture of Metheny-like jazz and spicy Turkish and other world music rhythms. As well as leading his own band, Meier has worked with the likes of Harry Beckett, Dave O'Higgins, John Etheridge, and many more.
Originally from New Zealand and now resident in the UK, tenor sax and flute player Greg Heath has toured and recorded with a diverse range of artists both in the Jazz and Pop idioms including Jim Mullen, John Etheridge, Van Morrison, Marianne Faithful, Joan Armatrading, Jimmy Ruffin, and Geno Washington.
Bands like the BOOM Quartet are perfect for the HX7 Club," commented organiser Dave Nelson. "You get stunningly good jazz, but it's got a contemporary feel and a more global perspective because of that fusion with world-music. I think it'll be a great night!"
HX7 Jazz takes place monthly on a Thursday at the Trades Club in Holme Street, Hebden Bridge. There's occasional Sunday lunchtime jazz in addition to the regular programme, which in November features the oriental fusion of Just East of Jazz and in December the wonderful Stuart McCallum Trio.
More information is available at www.hx7jazz.com, where you can also sign up to be kept informed of developments as they happen. Doors open at 7.30pm with live music starting at 8.pm, and the headline band starting at 8.30. As an added bonus the venue provides excellent value curries from early evening. Phone the Trades Club on 845265 to book a meal or to ring to book advance tickets which are £12, and £9 for concessions and members.