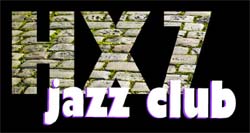 Just East
Highly acclaimed London band Just East visit Hebden Bridge's HX7 Jazz Club on Thursday November 24th. The Club is always keen to promote and programme the many diverse areas of jazz, and Just East's eclectic jazz fusion with its many overtones of Asian and Eastern European music, fits the bill perfectly.
Just East will be performing tracks from their new album House of Leaves, in which they have arrived at an extraordinary synthesis of sound, colour, light and imagery - the apotheosis of a musical idea whose roots go back to 1993. Back then Just East gained a reputation as one of the first and best groups to explore the connections between jazz and klezmer; but they quickly developed a sound and approach all their own, and over time took in a much wider range of influences. The new material embodies their personal and idiosyncratic concept and compositional style, a collective voice which fans recognise and love.
The band has a uniquely off-beam take on contemporary music, incorporating world, folk and classical influences in their impressionistic style. Composition and improvisation are seamlessly linked, an approach that has led to favourable comparisons with fusion pioneers Weather Report and prog rock innovators Gong.
Now comfortably ensconced in their experimental underground lab in North London, all four band members contribute to the writing and arranging of compositions in which can be heard a myriad of influences: a shared fascination with American jazz, a weakness for sentimental melody from the old-world Diaspora, and performing careers that have taken in rock, pop and folk superstars, West End musical theatre, Mecca ballrooms and bar mitzvah bands.
Just East have performed all over Britain, with gigs at over 100 venues, including such diverse locations as London's Purcell Room, Dartington Arts, the Geffrye Museum and several tours from the tip of Cornwall to the Orkneys. A popular choice for festivals, the band has appeared at Brecon, Marlborough, Ealing, Birmingham, Canterbury and many others.
The line-up comprises virtuoso Neil Angilley on piano (his numerous credits include Ben E King, US3, Snowboy, The Gipsy Kings, Shirley and Jeff Wayne's War of the Worlds), Jeremy Shoham on reeds, and long-standing collaborators Phil Scragg (bass) and Rick Finlay (percussion).
HX7 Jazz takes place monthly on a Thursday at the Trades Club in Holme Street, Hebden Bridge. December 22nd features the wonderful Stuart McCallum Trio, and the New Year will welcome the likes of Darren Altman's Centreline and The Asaf Sirkis Trio making a return to the HX7 Club after a two-year absence.
More information is available at www.hx7jazz.com, where you can also sign up to be kept informed of developments as they happen. Doors open at 7.30pm with live music starting at 8.pm, and the headline band starting at 8.30. As an added bonus the venue provides excellent value curries from early evening. Phone the Trades Club on 845265 to book a meal or to ring to book advance tickets which are £12, and £9 for concessions and members
and tight but flighty improvisation." Jazzwise
"Just East are a lively, sometimes downright exhilarating outfit, and House of Leaves, their fifth album, is their best to date."
www.vortexjazz.co.uk
"A wonderful amalgamation of inspired writing and stunning playing." The Musician