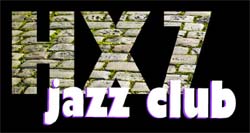 Stuart McCallum Trio
There's a welcome return for a long-time Trades Club favourite, when guitarist Stuart McCallum brings his superb Trio to the Hebden Bridge HX7 Jazz Club on December 22nd. McCallum has frequently performed at the Trades with organist John Ellis's band and also with his own outfits. The Trio's current line-up also features the exciting and explosive Luke Flowers on drums, and the versatile and virtuosic Jon Thorne on double bass. Together the band have an exciting and distinctly upbeat approach: mixing ultra contemporary electronica with classic jazz grooves which refer back to the sound of legendary Blue Note guitarist Grant Green.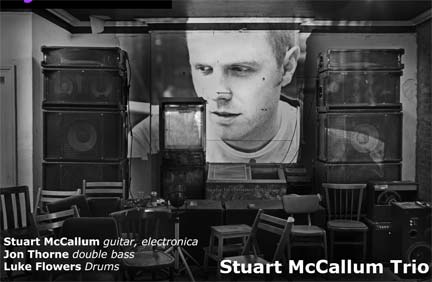 From jazz beginnings to DJ culture, Stuart McCallum's music is 'alternative jazz' - a distillation of influences, creating a sound that is concentrated and distinctive. Not wanting to hide behind over complicated harmonic and rhythmical structures, angular and forgettable melodies, his music is a new hybrid of composition, production and performance. It embraces simple, memorable melodies, bass lines and drum beats, with electronica and improvisation enriched by elegant writing. Stuart has performed and recorded with some of the most prominent jazz artists of today, including Kenny Wheeler, John Surman, Mike Gibbs, Gwilym Simcock and Tim Garland.
Luke Flowers is the drummer for the Cinematic Orchestra. He has toured Europe and North America and has appeared at Montreal Jazz Festival, Montreaux Jazz Festival, North Sea Jazz Festival and the Big Chill. Luke has also worked with US soul legend Fontella Bass and UK hip-hop star Roots Manuva.
Renowned as a passionate, energetic and highly skilled performer, Jon Thorne's career as a double bassist has spanned a broad range of the musical spectrum. As bassist and composer he has recorded 4 albums, toured 30 countries in 5 continents and played at most of the worlds leading festivals including Glastonbury, Montreux Jazz, North Sea Jazz, NYC Summerstage and Manchester Jazz Festival.
"The HX7 Club completes its second year of existence on the 22nd, so we'll be celebrating that as well as the imminent Christmas festivities," said organiser Dave Nelson. "And I really can't think of a better band than Stuart McCallum's Trio to get everyone into a great festive mood. Let's party!"
HX7 Jazz takes place monthly on a Thursday at the Trades Club in Holme Street, Hebden Bridge. 2012 will see the likes of the Asaf Sirkis Trio, Rod Mason's Elements, TrioVD and Darren Altman's Centreline appearing at the club. More information is available at www.hx7jazz.com, where you can also sign up to be kept informed of developments as they happen.
Doors open at 7.30pm with live music starting at 8pm, and the headline band starting at 8.30. As an added bonus the venue provides excellent value Himalayan food from early evening. Phone the Trades Club on 845265 to book a meal or to ring to book advance tickets which are £12, and £9 for concessions and members