Thursday, 22 December 2011
Teenage Kicks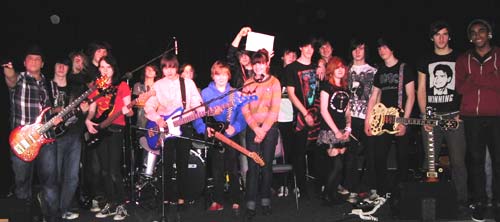 Young musicians from Calderdale Council's Rock School delighted the audience at Hebden Bridge Trades Club last Thursday night (15 December).

The event, aptly named Teenage Kicks, was held to showcase teenage talent in the field of rock and modern music. It featured exciting performances from Calderdale bands Calls for Alarm, Saphistarr, Oreoh's, Dream Eaters, Clockwork and Vertebreak and from solo artists Lily Bell and Anna Seccombe.

The bands are members of the Council's Rock School and the evening was organised by the Young People's Service in partnership with the Hebden Bridge Trades Club and musician Dave Nelson.

All the performers were aged between 13 and 19, which made the level of expertise and professionalism all the more astounding.

Organisers commented on how hard the young people had rehearsed for the concert and how much they had enjoyed it.

Thanks go to the Hebden Bridge Trades Club for offering such an excellent live venue. It is hoped that there will be other events held at the Trades Club and at other venues in Calderdale, to give young musicians the opportunity to play live and to encourage other young people to get involved in learning to play instruments, singing and / or writing songs.

For more information about the Council's Rock School, please contact Lorraine Daber on 01422 883880 or email Lorraine.daber@calderdale.gov.uk.