Dr Feelgood back at the Trades
Monday, 11 May 2009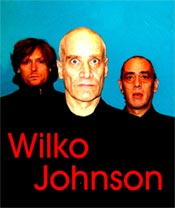 Legendary R'n'B guitarist Wilko Johnson is back at the Trades Club on Friday 15th May showcasing a blistering collection of songs spanning a four decade career.
Wilko made his name with punk pioneers Dr Feelgood contributing his unique percussive, choppy guitar licks before splitting with the Canvey Island greats to form his own hugely influential blues band the Solid Senders.
In yet another career twist Wilko joined forces with cockney hit machines Ian Dury and the Blockheads and his new band features the incomparable Blockhead bassist Norman Watt Roy and former Jesus and Mary Chain drummer Moni.
Support on the night comes from Long Trick who play a set of their own deep blues inspired by the headline act.
The weekend kicks off with another Sally Rock the Valley night on Thursday 14th May featuring some of the best new bands in Calderdale.
The Trades has always played host to the best Americana acts and Saturday 16th May sees the debut of the Mojave Collective who channel the ghosts of Gram Parsons and Johnny Cash but with a peculiarly British twist.
The six piece hail from the deep south of Liverpool and come swaggering into the valley into like the Fabulous Furry Funk Brothers to preach an unholy gospel of county, rock and acoustic beauty.
"This year we've already put a few legends but Wilko Johnston is the all time greatest British R'n'B guitarist who has absolutely defined guitar playing in that genre over four decades," Trades Club spokesperson Paul Clarke told the Hebden Bridge Web.
"But even better is his band features Blockhead bassist Norman Watt Roy who was the rock on massive hits like Hit Me with Your Rhythm Stick and What a Waste .
"But we also like to support new acts so country rock fans are in a real treat when the Mojave Collective bring their gorgeous Anglo-American songs to the club."
Tickets for Sally Rocks the Valley (£4), Wilko Johnston (£12) and Mojave Collective (£7.50) are available from boxoffice@tradesclub.info or 01422845265.
---
Listen now
---
Previously on Hebweb
Nick Harper hits the peaks at the Trades
May Day weekend at the Trades Club
Peter Kay rocks the Trades Club
Squeezing out the hits at the Trades
Southern Tenant Folk Union at the Trades
Becks and The Bullets back at the Trades
It's Ho-Hoedown Time at the Trades
Australia's Emily Barker plays the Trades
St Patrick's Day Shenanigans at The Trades

We try to make sure that the Hebden Bridge Web news is correct,
but if you are aware of any errors or omissions, please
If you have comments on Hebweb news please make
a contribution to our
© Hebden Bridge Web