Wednesday, 20th December
Labour left-winger and leadership contender John McDonnell is in Halifax Wednesday December 20 @ the Irish Centre. Backing him will be Halifax MP Linda Riordan and former MP and anti-war campaigner Alice Mahon. Kick-off 7.30pm. All welcome.
See also www.john4leader.org.uk
Local ownership of windfarms
7-9pm at Todmorden Town Hall
Wednesday 13th December
Wednesday 13th December
Ian Dewhirst M.B.E.
A Look at Christmas Past
We are delighted to welcome back this popular speaker. Talk will be followed by a pie and pea supper £1.50
Methodist Hall, 7.30 pm
Hebden Bridge Local History Group
Little Theatre
November 27 - December 2
Caught in the Net
By Ray Cooney
Directed by Jacki Reed
The sequel to the hilarious 'Run For Your Wife' by that master of farce Ray Cooney finds our bigamist taxi driver, John Smith, still running two families atthe same time, and keeping them blissfully unaware of each other. However, his teenage children - one boy and one girl by each wife have met on the internet and are determined to see each other, especially as it seems they have so much in common - same surname, taxi driver dad of the same age etc...
When John realises that they are about to meet he enlists the aid of his long-suffering friend and lodger Stanley Gardner. He is just about to go on holiday with his old father who turns up thinking he is already at the guest house. The situation obviously gets increasingly out of hand as John busts a gut juggling with the truth.
Remembrance Sunday
A parade will start from the the Hebden Royd council offices at 10am on Sunday 12th November, going to the war memorial in New Road. The parade will be led by Hebden Bridge Senior Band. After the laying of 37 wreaths, a service of remembrance will be held at St James's Parish Church.
Wednesday 22nd November Diana Monahan
New Road, 1806 – 2006
The First Bypass for Hebden Bridge

Diana will talk about the creation and development of New Road which is explored along with the businesses, shops and people that made up the community.
Methodist Hall, 7.30 pm
Hebden Bridge Local History Group
Hebden Bridge Arts Festival
28 November
Open meeting: Anyone interested in putting forward ideas or making suggestions is invited to an open meeting on Tuesday, November 28 November from 8pm to 9.30pm in the Arts Festival shop on Albert Street in Hebden Bridge.
5th to 14th October

Arts Festival shop
Film screening of Take my Eyes marks lead-up
to White Ribbon Day - 25 Oct, 2006
Thursday, October 26 to Sunday, October 29.
Portraits of the Blind
Exhibition: Life-size, full body portraits of blind and partially sighted people are the work of Hebden Bridge-based photographer Rebecca Dearden, who will be showing the work at the Arts Festival Gallery on Albert Street in Hebden Bridge.
Thursday 2nd Nov

Curry night and quiz.
Trades Club.
Organised by Hebden Royd Labour Party.
8.30pm. Tickets £4 include food

HEBDEN BRIDGE BONFIRE
Saturday 4th November
Calder Holmes Park
Wednesday 8th November Alan Fowler
Hebden Bridge Weaver's Strike 1906 – 1908
Alan taught economics and social history at Manchester Poly/Metro University for 36 years; he is a fellow of the Royal Historical Society and served on the Council of Economic History Societies and the committee of the Social History Society
Methodist Hall, 7.30 pm
Hebden Bridge Local History Group
UNICEF Middle Eastern Children's Appeal fundraiser event
A concert to raise money for UNICEF's work in southern Lebanon and Gaza is being held at Marshall's Bar, Carlton Street, Hebden Bridge on Saturday November 4th from 8pm until late - more info
Little Theatre
October 2 - 7
Snake in the Grass
By Alan Ayckbourn
Directed by Sharon Kelly
Miriam has devoted her life to caring for her father during his ailing, bad tempered last years with the help of Alice, a nurse. When he dies he leaves the bulk of his wealth to another sister, Annabel who had lived in Tasmania for a long number of years. When she returns to claim her inheritance the sisters must face up to the tensions this causes and their long buried childhood memories. Things darken further when the nurse begins to blackmail the sisters and, as night begins to fall across the garden in which they played as children, we begin to wonder if it is only the past which has come back to haunt them.
A 'Ghost play', (the author's words) which offers plenty of black humour and spine-tingling horror.
Wednesday 11th October Local History AGM
Please come along and have your say about the future of your society. If any member would like to give a 5-10 minute talk after the business meeting please contact Ann Kilbey.
Methodist Hall, 7.30 pm
Hebden Bridge Local History Group
Wednesday 18th October Isabelle Gerrard
General Society Special Event! £1 admission charge.

Living and Working in Antarctica
Isabelle has had two 18 month contracts as housekeeper to the British Antarctic Survey Team in Antarctica. Her talk about life on the coldest, windiest, most isolated continent on the planet will be stunningly illustrated.
Methodist Hall, 7.30 pm
Hebden Bridge Local History Group
Inheritance Tax Seminar
Thursday the 19th October
Hebden House
Birchcliffe Centre
Led by Co-op Bank Independent Financial Advisers
Commencing at 10.30 for coffees
Presentation starts at 11am - this normally lasts around 1hr 15 min with coffees and biscuits served afterwards.
Wednesday 25th October
Elaine Connell
Sylvia Plath – with a look at Local Connections


Elaine is author of 'Sylvia Plath: Killing the Angel in the House' Pennine Pens, 1993; and is founder and manager of the Sylvia Plath Forum.
Methodist Hall, 7.30 pm
Hebden Bridge Local History Group
Thursday September 7th
8.30pm
Labour Party Curry Night and Quiz
Proceeds to Hebden Royd (Old) Labour Party
Trades Club
Saturday, 23rd September 2006
STOODLEY STAGGER
Walk to raise funds for heart research
Wednesday 27th September
Peter Thomas
Methodist Hall, 7.30 pm
Seeing it Through - Local Life during World War II

Peter will talk about this, his third book, which covers many aspects of the Home Front, with particular emphasis on the Home Guard and the influx of evacuees into the locality.
Hebden Bridge Local History Group
Saturday 2 September 2006
BLACKSHAWHEAD - biggest Fete yet
Sunday 3 September 2006
Heptonstall Festival
10km charity race in memory of Alice Redmond
multi-terrain 10k race in memory of Alice Redmond all proceeds donated to Epilepsy Action.
Alice (from Blackshaw Head) had just finished a student placement when she was involved in a tragic accident. Alice had researched the possibility of a 10k run as an event. After her tragic death, her friends have decided it would only be right to put her work into action.

Start at: Brearley Field, Mytholmroyd
Finish at: Calder High School.
T-shirt and goody bag to all finishers.

Children's fun run in Calder High School Field, medal for all finishers.

The start time is 10.30am for the main run and 10.45am for the children's fun run.

The entry costs are £8 (UK Athletics affiliated clubs)
£10 (unattached)
£2 (Children's fun run).

Entries accepted on the day subject to race limit (£1 extra).

Postal entries close on 25 August.

To enter please send completed entry form with cheque payable to Epilepsy Action to:
Epilepsy Action,
New Anstey House,
Gate Way Drive,
Yeadon,
Leeds LS19 7XY.

email rcasey@epilepsy.org.uk
tel:0113 210 8800.
Forms available on line www.epilepsy.org.uk.
August 18-19 2006
Bogfest at the Trades
The gig venue at Hebden Bridge next weekend will stage Bogfest – a series of concerts to raise funds to refurbish the men's and women's toilets at the club. The festival kicks off on Friday August 18, with The Women's Room concert. DJs from Mix and Spin, percussion from Calder Samba Women's Band, and singer/songwriter Fasciani, indie, rock, and a little something different. Fasciani is making waves on myspace. And the little boys' room has its turn on Saturday August 19, in The Men's Room concert when Virgil Presley returns with the sounds of the early Elvis era. Virgil and the band make a comeback special.
Peace Vigil - August 26
Halifax Friends of Palestine has planned a town centre vigil at Hebden Bridge from 10.00am until 12 noon on August 26 where the public can sign petitions. MP Chris McCafferty is expected to attend.
Saturday 29 July 2.00 – 5.00pm
Cartoon Controversies, Press Freedom
and Freedom of Expression
Artsmill, Hebden Bridge

Workshop leader: Granville Williams (Huddersfield University & Campaign for Press and Broadcasting Freedom)

Want to know more about Vicky, Herblock, Zec or Low? Who are the contemporary cartoonists who ruffle the feathers of politicians? To accompany the cartoon exhibition, Misunderestimating the President, in the Artsmill, Hebden Bridge this workshop explores the work of some of the great political cartoonists, both historical and contemporary.
The emphasis of this workshop is very much on debate, discussion and clarification. To what extent should we defend the right of cartoonists to cause offence? Is it legitimate to exclude certain topics from cartoons? What impact can the work of cartoonists have?

You are invited to bring along examples of cartoons which you love, hate or think should never have been published, and an open mind.

A 'workshop' suggests there is a practical outcome or product at the end of it. We can discuss and agree what that might be amongst the participants on the day.
Sunday 30 July 2006
Pennine Climate Action Group
Rob Newman - Political Comedian - Trades Club
No Planel B hurtles through history backwards from present day UK to the Creation Myth of the Neanderthals - vi the Black Panthers and the Elephant Man, Emmeline Pankhurst, feudal barons and Mozart. Touching on the Blitz, Shakespeare and Hardy, No Planet B is also a meditation upon ecocide and Climate Change. A benefit for the Camp for Climate Action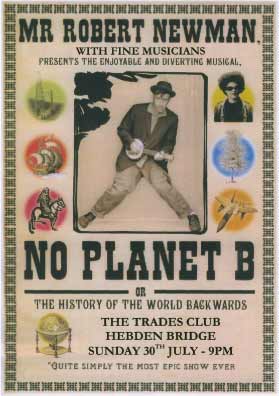 - more info
and Guardian piece
HEBDEN BRIDGE ARTS FESTIVAL
1-16 July 2006
See Festival website for latest info
Colden School Big Fun Family Art Day
Saturday, 8th July - more
Tuesday 11th July
Down Your Way: Looking back at Old Town and district.
Hare and Hounds, Wadsworth, 8 pm
Hebden Bridge Local History Group
Saturday 15 July 2006
Pennine Climate Action Group
Climate Awareness Day at Marshals Bar
15-16th July 2006
Digital Photography Exihibition
Zion Studio
Nutclough
Hebden Bridge 10am - 4 pm
Saturday, 10th June

Hebden Bridge Carnival
The Carnival Fell Race is a new event: Stoodley Pike and back via Erringden Moor (3.00pm). 1150ft of ascent over 5.8 miles.

Enter on the day £3.50 (includes entrance to Carnival). Minimum age 16. Special prize category for runners entering their first fell race.

Also Fun Run at 2.00pm.
Calder Holmes Park Carnival Field, Hebden Bridge

Fell Race Organiser: Andrew Bibby Tel. 01422 844026
andrew@andrewbibby.com
Little Theatre
June 19-24
Secret Diary of Adrian Mole
By Sue Townsend
Directed by Jenny Gore
Based on her own best-selling and much loved book Sue Townsend recreates the world of Adrian Mole dramatically. He is entering the world of teenage 'growing pains', worried about spots and girls whilst his parents are having affairs with their neighbours.
Feeling unloved and uncared for, continually bullied by Barry Kent, Adrian tries to find comfort in seeking after the unattainable Pandora and performing 'good deeds' with visits to the outrageous pensioner Bert. Will he get his girl? Will his parents ever love him or will he always have to rely on his dog for affection?
Townsend creates a great deal of humour as she explores the world of teenage angst and Adrian's melodramatic misunderstandings of it. With plenty of foottapping songs this makes for a great night outfor all ages.


World (Cup) Music at Trades - 12 June
Sunday 18th June

Heptonstall Tower Tours and Monumental Inscriptions.

Tower Tours at 10:45 am 11:45 am 1:45 pm 2:45 pm 3:45 pm
Donations towards the Church Community Room Development Funds. The number of people ascending the tower is limited, so to be sure of a place, you can book by phoning Bessie Steen 843204.

Help wanted with Monumental Inscriptions between 10:45 am and 5 pm. If possible bring a soft brush and a bottle to fill with water. A folding stool would be useful and sensible footwear is recommended.
Hebden Bridge Local History Group
Sunday 18th June
In Heptonstall Grammar School Museum there will be a slide show presentation about the Parish Churches of Heptonstall.
Hebden Bridge Local History Group
Saturday 24th June
Open day at Wainsgate Chapel, Old Town, 2 pm-4 pm. Organised by the Friends of Wainsgate. An opportunity to look around the chapel and our local history display. Tea and cakes available to buy.
Hebden Bridge Local History Group
Wednesday 28th June
Friends of Palestine
Public meeting with: Bruce Kent and Musheir El Farah
This will be the launch meeting of the newly formed Halifax Friends of Palestine. Bruce Kent is probably Britain's best known peace campaigner and is Vice President of CND and a Patron of the Palestine Solidarity Campaign Musheir El Farah is chair of Sheffield PSC and maker of a documentary on Rafah - Voices Through the Rubble

6.30pm start
Stalls and refreshments
Halifax YMCA
Auction of promises to raise funds for Calder High Theatre
Friday, 30 June 2006
Venue: Calder High School Theatre
Registration and Refreshments at 7.00pm
Auction starts at 7.30pm
June 1st 8.30pm
Labour Party Curry Night and Quiz
£4 price includes selection of veggie and meat curries and quiz. Plus raffle
Trades Club
03 June 2006
Calder High School Reunion - Class' of 1985/86
Drop Paul Clarke an email and he'll keep you informed
Calderdale Friends of the Earth

Wednesday 17th May 7.30pm
White Lion, Hebden Bridge
Public meeting - all welcome
We need a 'Big Push' to tackle Climate Change!
Thursday 25th May
Walking with Suffrage; Votes for Women comes to Hebden Bridge. Walk led by Jill Liddington, who will have just published (11th May) a book on Suffrage called "Rebel Girls – their fight for the vote" which includes the story of Lavena Saltonstall from Hebden Bridge.

Meet by the market stalls in Hangingroyd Lane at 7 pm.
A short walk, with 2 steep climbs (one up steps, one up a pavement).
Hebden Bridge Local History Group
Monday 8th May

Archival Packaging Workshop with Allan Beaumont, Conservation Manager for the West Yorkshire Archive Service. Find out how to conserve your own archives, or if you are not a hoarder, help the local history society to preserve and catalogue the Gibson and Sutcliffe papers that were rescued from Croft House here in Hebden Bridge.
7 pm to 9 pm in Hope Chapel; please use the entrance on Cheetham Street which is accessible to all.
Hebden Bridge Local History Group
9th May 2006, 7.30 pm, White Lion

Honest? Truthful? Fair?
Is the British press doing a good job?
Speakers:
CHRIS FROST
Professor of journalism, Liverpool John Moores Univ. Chair, NUJ Ethics Council
CAMPBELL MALONE
Solicitor, Stephensons, challenged the conviction of Stefan Kiszko in the notorious miscarriage of justice murder case
Public meeting called by Calderdale branch, National Union of Journalists. All welcome. No admission charge. More details from HB 844026.
Calder High School Parents' Network

May 10 at Good Shepherd,
Mytholmroyd, 7pm
---
Little Theatre
April 24 - 29
Abigail's Party
By Mike Leigh
Directed by Vaughan Leslie
Suburbanites, Lawrence and Beverley, are entertaining their new neighbours to drinks. Also joining them is Susan, seeking refuge from her daughter Abigail's first teenage party. The evening's initial good-will and fatuous small-talk gradually gives way to rising tension as cracks show in Lawrence and Beverley's relationship -to darkly comic effect!
A recent revival of Mike Leigh's play, at the Hampstead Theatre, garnered rich praise, and was variously described as 'brilliant and hilarious', 'a timeless comic delight' and 'a portrait of a suburban hell'.
Friday 28th April
FLOOK
Picture House
Irish/English folk roots band, winners of Best Group at the BBC Folk Awards 2006
"Never have I seen so many people so completely and utterly spellbound, the most magical of experiences."
The Irish Post
Ben Haggerty, the leading UK storyteller
Friday 28th April, 8pm
The Stubbings Wharfe
"Ben is a fantastic, skilled, and entertaining performer. If you've ever wondered if you'd like storytelling- this is your best chance to be enthralled. Arrive early as he is so popular we sometimes have to turn people away. Shaggy Dog Storytellers have regular storytelling on the last Friday of every month except December."
Shaggy Dog Storytellers
May Day Cragg Vale village fete
Bank holiday Monday afternoon, 1st May
Something for all the family, with refreshments available. Great way to spend your May Day Bank holiday.
Fell race starting 12 noon from near the church, then Maypole dancing, facepaints, duck race and various stalls.
Mytholmroyd Action Plan Community Meeting
Tuesday, 25th April
7.00pm - 9.00pm
The Good Shepherd Church, New Road, Mytholmroyd
More
World Dock Pudding Competition
Sunday 23rd April
Mytholmroyd Community Centre
Competition starts at 1.30pm
Cafe - Dock Pudding - Bar - Tasting
Music by The Hebden Bridge Junior Band
Craft and Charity Stalls
Free admission
Monday, 3rd April - nominations close for council elections
Thursday 6th April 7.30 pm
Calder Valley Organic Gardeners (CVOG)
Monthly Meeting
Good Shepherd Mytholmroyd
April 9th

Todmorden Book Fair
Masonic Hall, 10-3
Refreshments available.
Entrance by donation (Proceeds to Cystic Fybrosis)
Good Friday, 14th April,
11.15 am, 12.45pm, 2.15pm and 3.45pm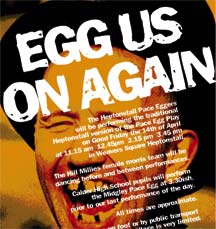 PACE EGG PLAY 2006
More details, poster for printing,
photo galleries from the past 6 years
Easter Monday 17th April
Duck Race
Wednesday 1st March 7.30 pm
Calder Valley Organic Gardeners (CVOG)
Monthly Meeting
Hebden Bridge Methodist Church
Scout Road Community Group AGM
Saturday 4th March, 3pm
Good Shepherd RC Church, Mytholmroyd.
Following the AGM we are to hold a public consultation culminating in a vision for Scout Road Park. Our future aim is to improve the site including the former cricket pitch, pavilion, playground and surrounding landscape.
We are also keen to work closely with the local community, youth workers and children and this is a great opportunity for people to have their say, tell us what they would like to see and contribute to the regeneration of this local pocket park.
Gayle Appleyard
For & On Behalf of Scout Road Community Group
9th March
Not That Damned Woman Again
Another look at the medical aspects of the Crimean War and its participants without Florence Nightingale
Michael Morris
7.30 pm at the Hope Baptist Church
Hebden Bridge Local History Group
15th March
A FAIR NIGHT OUT

The Hebden Bridge Fairtrade Forum are organising an evening of video, discussions, music, dancing, food and drink, on 15th March (7.30pm), at the Trades Club, as part of Fairtrade Fortnight 2006.

The evening will centre around a visit that one of their members recently made to Fairtrade producers in Nicaragua, and will show the video that was produced.

There will opportunities to find out more about fairtrade, to discuss fairtrade matters with people actively involved, and to explore the wider ethical issues around how we shop.

Live music, and music for dancing, will be played by performers from various parts of the globe, and Fairtrade drinks and nibbles will be on offer at the bar.

There is no entry charge but donations will be invited to cover costs and to support the fairtrade workers of Nicaragua.

See website
23rd March
Yorkshire Dialect
Ian Dewhirst M.B.E
7.30 pm at the Hope Baptist Church
Hebden Bridge Local History Group
Thursday 12th January
ACOUSTICA @ Hebden Bridge Trades Club
An evening of live, acoustic bands and acts, bringing together a host of talent from the Calder Valley and beyond.
The event is showcasing the talents of three singer/songwriters from the local area; Marcus James, Nick Chapman and Ben Sheard, plus the new acoustic band Pepperjam
Doris and the Dinnerladies at Square Chapel
Saturday January 7th at 8 pm
There's a new venue for the town's favourite Bloody Big Soul Band (featuring Doris and the Dinnerladies) - the annual New Year's bash is taking place at Square Chapel in Halifax on Saturday January 7th at 8 p.m. Tickets are selling fast and are available from the Box Office 01422 349422 (£12/£10).
Band leader Dave Nelson says 'We're aiming to finish in time for people to catch the last bus back to Hebden Bridge. Square Chapel has a great floor for dancing so we're hoping our fantastic fans will be prepared to travel to Halifax to enjoy the party.'
12th January
An Abundant Shower of Curates
- Local links with the Brontes.
Ian and Catherine Emberson
7.30 pm at the Hope Baptist Church
Hebden Bridge Local History Group
Tuesday 15th November
At Waterside Bar in the Little Theatre
General Society A.G.M. followed by
Votes For Women Comes to Hebden Bridge - Why has this Edwardian Campaign been forgotten?
Jill Liddington
Hebden Bridge Local History Group
24th November
A Calderdale Saunter - Part 2
A further look at the Upper Calder Valley with Glyn Lee
7.30 pm at the Hope Baptist Church
Hebden Bridge Local History Group
LADBROKES
Public meeting organised by local councillors.
Thursday, 24th November, 7.30pm, Riverside School
Thursday 24th November, 8pm,
Stubbing Wharf,
Hebden Bridge.
Coyote Dream Theatre presents: 'Raining Angels',
Duration: 1hr, tickets £4/£3 on the door
Saturday, 5th November 2005
HEBDEN BRIDGE BONFIRE
Calder Holmes Park
Bonfire: 6.15pm
Children's display: 6.45pm
Main firework display: 8.30pm
10th November
The History of Hebden Bridge Little Theatre
Ray Riches
7.30 pm at the Hope Baptist Church
Hebden Bridge Local History Group
Treesponsibility autumn gathering
The annual Treesponsibility autumn gathering is this weekend 11 till 13 november at Hebden Hey, Hardcastle Crags. There are still weekend tickets available. £75 full price £50 low waged £35 unwaged. Ring 01422 843222 to book. Friday night open mike and quiz at Blue Pig, Saturday Night party at Hebden Hey featuring the fabulous Electric Brains, fire show by Weirdigans. Party tickets £5 on door.
Thanks to Christina Hooley for this info
Wednesday, November 9, 2005
13th October
AGM - followed by a talk by Polly Webber of the Alternative Technology Centre entitled Power in the Landscape - the history of power in the valley and how it affected people's lives and their environment.
7.30 pm at the Hope Baptist Church,
Hebden Bridge Local History Group
27th October
An Unreliable History of Hebden Bridge: John Morrison
John pokes gentle fun at the history of Hebden Bridge, a typical mill town.
7.30 pm at the Hope Baptist Church
Hebden Bridge Local History Group
Ian McEwan's
"The Imitation Game"

Sat 29th October, 8pm
Little Theatre

£9 concessions £7
Tickets 01422 842684

A Hebden Bridge Arts Festival event

People can buy on the door on the day from 7pm or leave a daytime tel. no for credit card bookings on 01422 842684
Weavers' Square
Heptonstall Festival 2005
Saturday, September 10, 2005
Heptonstall Festival returns this year with an array of music, dance, song and fun for all the family. The theme for this year is The Coiners of Cragg Vale . A specially commissioned play charts the drama of the Coiners and other events include the Pace Egg crew with their alternative production for the day, TC & THe Swing Cats, Hepton Singers, Fancy Dog contest, Punch & Judy, Bouny Castle, official weigh in of Black Jack Mulligan, Punch & Judy, Flamenco and more.
See photos from the Festival
Family Fun Run
Wednesday 21st September
Brearley Fields
Registration at Mytholmroyd Cricket Club from 5.45pm.
Races start from 6.15pm
Children £1.00, Adults £2.00 entry fee.
Prizes and certificates given
RACES;- Under 8's, Under 12's,
Under 10's and Open Age Group for mums and dads.

Contact Helen 07763980977, or Julie 01422 881014
Organised by Hebden Bridge Ladies Circle with proceeds going to local children's charities
22nd September
Hebden Royd in My Youth
- an evening with Sir Bernard Ingham
This special opening event of the Winter Programme will take place at Hebden Bridge Picture House. Bar.
Admission charges apply; special rates for paid-up members.
Hebden Bridge Local History Group
Wadsworth Parish Boundary Walk
Sunday 4th September - form and details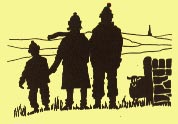 Jazz in the Garden
on a Summer's Evening in support of the Red Cross
4th June - more info
How to make freelancing in the media
more enjoyable and more profitable
Upstairs room, White Lion Hotel,
Hebden Bridge. 7.30pm
Tuesday June 7th 2005
This workshop session, which has been arranged by Calderdale NUJ to mark the first NUJ Freelance Day of Action, is open to all, NUJ members and non-members alike.
The workshop will be run informally, and will feature suggestions, ideas, tips and advice from current freelance members of the NUJ. Other participants are invited to bring their own ideas and experiences to share.
More details from Andrew Bibby,
NUJ branch secretary 01422 844026
Hebden Bridge Carnival
Saturday, 11th June
Assemble: 12.30pm at Calrec carpark, Valley Road.
Calderdale International Solidarity Movement invites you to

An Evening in Palestine

7.00 pm on Sunday 12 June
at the Hebden Bridge Trades Club

Palestine is a country which is hard to enter and, if you are Palestinian, even harder to leave. Blockaded and controlled and subject to continual violence from Israeli occupation forces, the Palestinian people nevertheless maintain a dynamic culture. We would like to show you something of this culture by film, music, food and Palestinian products.

The films include:
An award-winning trilogy by the ISM activist Osama Qashoo
Short films made this year by the Balata Camp Media Group inside the occupied city of Nablus
In addition there will be Palestinian music recently recorded inside the country, handicrafts, a sale of Palestinian olive oil plus Palestinian food.
Entrance is free. Donations will be welcome
THE COLLECTORS
- New Work by Andrew Livingston & George Morris
Wed 9 February - Sun 20 March 2005
ArtsMill Gallery
Linden Mill, Linden Rd, Hebden Bridge
Open: Wed - Sun, 11am - 4pm
Entrance Free
For further information telephone 01422 843413
Following the success of their last collaboration in 2003 - "Paintings Inspired by the Music of Frank Zappa" - George and Andrew's latest exhibition takes a sideways look at the obsessive world of collectors and their collections. However, their collectors are a little more bizarre than usual - from acid flashbacks to noxious gases, from little green men to fantastic creatures.
The exhibition features 19 works which includes paintings and sculpture.
Surreal, bizarre, humorous and quirky - another contemplation of the human condition!
George and Andrew have been working collaboratively since 2001 but this is the first time they have worked jointly on work since "Couch Potatoes" produced for the 2003 Sculpture Trail at Hebden Bridge.
To see more of the artists' work visit here
V-Day Calderdale 2005
Calderdale Substance Misuse Service
Proudly presents a benefit performance
Of Eve Ensler's

as part of the V-Day 2005 Worldwide campaign to
stop Violence Against Women & Girls.
February 16 & 24 2005 at 7.30pm
At The Trades Club,
Hebden Bridge
Price: £5 (£4 for members)
Proceeds to go to local projects working with woman experiencing domestic violence and 10% to go to the women of Iraq
Please email your favourite word for vagina to hebdenbridgevaginamonologues@yahoo.com
February 10th: Sid Nuttall
Airborne Services
February 24th: Chris Helme
Men of Stone
Hope Baptist Church, 7.30pm
March 10th: Andrew Bibby
A Vision of Jerusalem
The story of the Clarion Movement rallies in Hardcastle Crags, late 19th /early 20th Century
Hope Baptist Church, 7.30pm
Democracy, politics and the press
March 14th, 7.30pm, Stubbing Wharf pub
Public meeting organised by Calderdale NUJ
Why democracy in Britain needs a thriving independent press
Speaker: Hilary Wainwright
Editor, Red Pepper magazine
Hilary Wainwright is the editor of Red Pepper, a regular commentator on radio and television, and a contributor to the Guardian. She is also a fellow of the International Labour Studies Centre at Manchester University. Although never a member of the Labour Party, Wainwright has for many years been involved with the extra-parliamentary Left. Wainwright describes herself as a socialist feminist and a strong believer in popular democracy combined with parliamentary democracy.
March 24th: Father John Gott
The County Mayo Boys
Hope Baptist Church, 7.30pm
Hebden Bridge Arts Festival 2005
25th June to 10th July
Festival website for more info