Beer, buns and buttons for the Hebden Bridge Arts Festival!
The 18th annual Hebden Bridge Arts Festival opened on Saturday with the whole community joining in the festival spirit to enjoy a feast of music, theatre, literature, Fringe events and visual arts at venues throughout Hebden Bridge and surrounding villages. Local businesses and schools have been getting involved, decorating the town and making produce to celebrate the festival fortnight.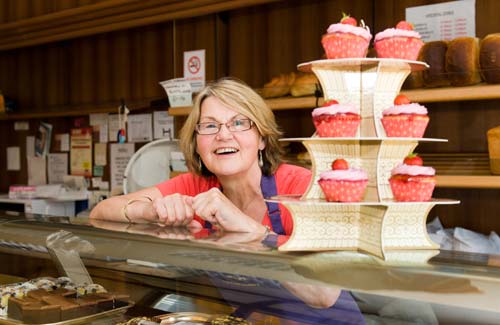 Judith Dawson of Waites - photo: Sarah Mason of Zebra Photography
Local ale specialists Little Valley Brewery have once again produced Festivale - an organically produced 3.8% bitter brewed especially for the Festival. You can enjoy a pint before or after Festival events (or any other time!) at The Fox & Goose, Stubbing Wharf, Trades Club, Hebden Bridge Picture House, Hebden Bridge Little Theatre and Moyles.
Children at Stubbings Infant school have been working with local artist Sarah McDade to produce giant ceramic buttons which are now in shop windows throughout Hebden Bridge. There is a competition to spot the most buttons (there's plenty of them!) and where they are! Forms can be collected from the Festival box office which is open every day until the end of the Festival.
Element is also running a special Festival competition - guess the number of flags in their shop window and win a gift voucher. Other shops with Festival window displays include Ribbon Circus, Oxfam and Earth Spirit. Spirals Fairtrade shop is inviting budding artists to design their very own shop window. The competition is open to all age groups and there are prizes! Entry forms are available from Spirals.
Hebden Bridge Bookshop are holding a book giveaway over 9 and 10 July with copies of Alan Bennett's 'The Uncommon Reader' and Hahmid Mohsin's 'The Reluctant Fundamentalist' up for grabs. Last and by no means least, Waites Confectioners have been baking special pink Festival buns to sell throughout the Festival. Pop in and buy one before the Festival organisers devour the lot!
Arts Festival Coordinator, Rebecca Yorke, said "It's great to see the whole community engaging with the Festival this year in ways that are special to them. The Festival brings many visitors to the town, and we try and ensure that the local economy benefits in as many ways as possible. We're really pleased that so many establishments are celebrating this and really adding to the Festival atmosphere."
Hebden Bridge Arts Festival 2011 is supported by Arts Council England, Hebden Royd Town Council, Calderdale Council, Sweet & Maxwell and Welcome to Yorkshire. Tickets for all events are now available from the Festival box office on Albert Street (01422 842684) or online via the Festival website at www.hbaf.co.uk where you can also sign up for regular email updates. Facebook users can also stay in touch via www.facebook.com/hbartsfestival.